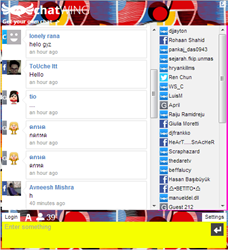 San Diego, CA (PRWEB) September 25, 2013
Finance is one of the top hottest topics in the cyberspace, based on the short survey conducted by Chatwing Research Team. The niche alone has spawned thousands of websites, along with forums that are offering ways on how people can handle their money woes. To tap such demand, Chatwing has launched a chat software that is meant specifically for the discussion of finance. Here are the expected topics in the special chat box:
Personal finance: This may be an old topic, but it never gets sidetracked in the list. Across the world, people are finding ways on how to deal with personal finance and make their lives better. Chatwing chat app can expand this topic by providing a lounge for visitors wherein they can share one finance tip after another.
Small businesses: Since many people are itching to get into the business arena, Chatwing has included the topic of small businesses. Several points may include small business startup tips, advice on finding capital, niche research, market research, expansion, and analysis of related trends.
Banking: While many banking sources can be found online, this topic has also been included in Chatwing's finance chat box. Banking professionals who are planning to visit the chat box can share related information so that other people will become more aware of their duties and responsibilities. Additionally, they can give preface information about the requirements of some banks.
Chatwing Team is planning to replicate the finance chat box once it has gathered regular visitors within a week or two. The other chatroom will be posted in various blogs and websites that will be followed by web users. More information is available in Chatwing's Facebook page.
About Chatwing.com
Chatwing.com specializes in the new field of website chat software. Over years, the Chatwing team has introduced live chat widget for hundreds and thousands of blogs. The Chatwing application bridges people from many parts of the world, creating global synergy through the Internet. The shout box can be installed in just seconds, and it can be used for varying purposes such as leisure and Internet marketing. It also allows a user to customize the size, color, and name of the widget.