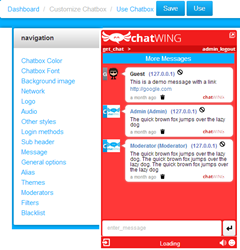 Seattle, WA (PRWEB) September 26, 2013
Four months have passed since Chatwing.com created a roster of background images for all of its web users. The background images were received positively and the users had more chances to select the aesthetic designs of their chatrooms. Now, Chatwing is preparing preset background images that are based on famous movies.
Iron Man 3. The Iron Man franchise is as popular as ever, based on many studies across the world. This is why Chatwing chat software has included the Iron Man franchise in its background images. Users can expect techno-designs mixed with the traditional Iron Man flair. Due to its complicated design, the Iron Man template may be set for Premium service.
Harry Potter and Lord of the Rings. These movies have gathered millions of dollars in the box office and they are still hailing fans on a global scale. Chatwing's team of designers has stated that designing such a chatroom may take time because of the rich and intricate design.
Horror films. Horror designs were suggested by Chatwing users, several months ago. Now that the design team has managed to start out this project, users can expect horror-themed background images that have complex visual setup.
Once this new project has become successful, Chatwing.com will focus on creating more preset background images. The company is still entertaining the suggestions and insights of web users. For extended information, Chatwing Team will post updates in Facebook and Twitter.
About Chatwing.com
Chatwing.com specializes in the new field of website chat software. Over years, the Chatwing team has introduced live chat widget for hundreds and thousands of blogs. The Chatwing application bridges people from many parts of the world, creating global synergy through the Internet. The chat box can be installed in just seconds, and it can be used for varying purposes such as leisure and Internet marketing. It also allows a user to customize the size, color, and name of the widget.