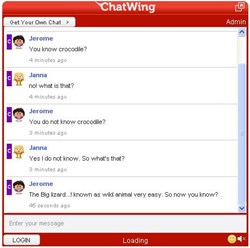 Boston, MA (PRWEB) September 27, 2013
To expand its user base, Chatwing Development Team has started conceptualizing for a business chat network. In this network, users will be able to discuss about businesses and their implications. The business chat network is also beneficial for website owners who are reaching out to large audiences. Chatwing's developers have listed several important points of the business chat network.
Business creation support. For those who are planning to start businesses, communication is essential. Chatwing chat software visitors can gather tips such as startup advice, logistics, economical status, the growing rate of inflation, and helpful government agencies.
Market discussions. Market research is very important to all startup business owners. With proper market research, business owners will gain more information about the competition in their niche. Chatwing shoutbox provides a way for these users to discuss potential companies that can make the niche competition intense. The users can also discuss the status of global markets.
Finance tips. Business is always correlated to finance. Visitors of the Chatwing chat box can also talk about financial strategies which are crucial to expansions and other business strategies. For better discussions, Chatwing Team has included social media leverage.
Chatwing.com and its core developers are focused on bringing the premise of website chat app to a whole new level. This is possible by introducing new strategies that will reach thousands of people in a given set of time.
About Chatwing.com
Chatwing.com specializes in the new field of website chat software. Over years, the Chatwing team has introduced live chat widget for hundreds and thousands of blogs. The Chatwing application bridges people from many parts of the world, creating global synergy through the Internet. The shout box can be installed in just seconds, and it can be used for varying purposes such as leisure and Internet marketing. It also allows a user to customize the size, color, and name of the widget.