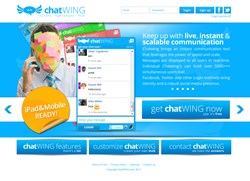 Cambridge, MA (PRWEB) September 28, 2013
Two weeks after the launch of Chatwing's Premium services, the Research Team has noted down a 30% increase on the purchases of the virtual coins. This chat app data was gathered from various online communities, forums, and even social media sectors. Listed below are the popular services that have contributed to this 30% increase:
Custom Logo. A year ago, Chatwing chat software team offers a custom logo creation service for startup bloggers and website owners. To make things easy, the developers have included this service in the form of Premium advantage. By purchasing 1 Chatwing Coin, the website owner can now design and upload his custom logos. This is highly essential for branding and marketing purposes.
Custom subheader. Subheaders are important for relaying witty, one-liner messages for chatroom visitors. This supports any branding campaign and can greatly improve the traffic rate in any website or blog. The subheader service was availed by Wordpress bloggers who are building subscriber groups within a definite set of time.
Secure Socket Layer. To increase the security in any website, Chatwing has introduced a paid SSL service. For only 1 coin per month, chatroom owners can take advantage of this service and manage any payment schemes easily.
More Premium features will be added in few months. These features include custom avatars, faster login system, direct file upload, Android setup, advanced chat networks, background image presets, additional fonts, and additional colors in the dashboard. Information about these upcoming premium services will be relayed in Chatwing's Facebook page.
About Chatwing.com
Chatwing.com specializes in the new field of website chat software. Over years, the Chatwing team has introduced live chat widget for hundreds and thousands of blogs. The Chatwing application bridges people from many parts of the world, creating global synergy through the Internet. The shout box can be installed in just seconds, and it can be used for varying purposes such as leisure and Internet marketing. It also allows a user to customize the size, color, and name of the widget.