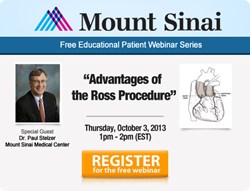 'We are very excited to connect Dr. Paul Stelzer with our community during this live webinar about the Ross Procedure.' -- Adam Pick, founder of HeartValveSurgery.com
New York City, New York (PRWEB) September 24, 2013
HeartValveSurgery.com, the largest educational resource and online community of patients with heart valve disease, announced today a special one-hour webinar titled, "The Advantages of the Ross Procedure," will be held on October 3, 2013 at 1:00 p.m. (EST). You can register for this free event by clicking here.
"Patients with aortic valve disease are often unaware of the benefits of the Ross Procedure," stated Adam Pick, founder of HeartValveSurgery.com and a former Ross Procedure patient. "We are very excited to connect Dr. Paul Stelzer with our community during this live webinar."
Paul Stelzer, MD, Professor of Cardiothoracic Surgery at the Icahn School of Medicine at Mount Sinai, will host this special educational event for patients, their families, and their friends. During his 32-year career, Dr. Stelzer has performed over 530 Ross Procedures for patients suffering from diseases including aortic regurgitation, aortic stenosis, and bicuspid aortic valves.
During the Ross Procedure, which was developed by Dr. Donald Ross in the late 1960s, the patient's own pulmonary valve is used to replace his or her diseased aortic valve. A human donor valve is then implanted in the pulmonary position of the heart. The operation is also known as the "Switch" procedure.
Dr. Stelzer has successfully performed the Ross Procedure on many patients within the HeartValveSurgery.com community.
"The Ross Procedure provides several advantages for patients," noted Dr. Stelzer of The Mount Sinai Medical Center. "I look forward to sharing those advantages, our research, our clinical experience, and our success stories during this webinar."
To register for this free event, click here.
About HeartValveSurgery.com
Founded in 2006, HeartValveSurgery.com (HVS) is the world's largest educational resource and online community of patients with heart valve disease. HVS provides patients, their families and their friends a trusted platform for each step in the surgical cycle -- from diagnosis to recovery.
The HVS platform includes a social network, a surgeon finder, a valve clinic directory, a microsite application, an educational video library, a learning center, a book and a blog. During 2012, HeartValveSurgery.com received over 1 million visits.
Contact information:
Contact HeartValveSurgery.com:
Robyn Podell, Director of Communications
(310) 721-0587
robyn(at)heartvalvesurgery(dot)com