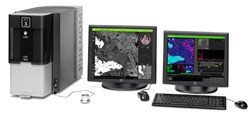 Phenom World continues to innovate at an incredible rate, providing researchers, engineers, and educators with unmatched power and ease of use in an SEM.
Phoenix, AZ (PRWEB) September 23, 2013
Nanoscience Instruments today announced the new generation Phenom Desktop Scanning Electron Microscope (SEM). With a magnification range up to 100,000x and resolution better than 17nm, the Phenom Pro is the most powerful desktop SEM ever. Not only does the Phenom provide remarkable clarity and detail, it is also lightning fast, extremely intuitive, and very versatile with a full line of accessories and options.
All-in-one system:
All Phenom scanning electron microscopes are intuitive, fast, and expandable. A fully integrated computer and touchscreen monitor reduces the footprint of the system. The entry level model, the new Phenom Pure, can be upgraded to the most advanced model - the Phenom ProX. Software options include the Pro Suite application platform, 3D analysis software, Fiber Analysis software, and a programming interface. Many hardware options provide convenience and expanded sample capabilities. Such add-ons include a heating & cooling stage, a motorized tilt & rotation stage, and several sample holders for nonconductive samples and unique sample geometries and shapes.
Standard Features:
All Phenom systems provide out-of-the-box features that are typically expensive add-ons with other desktop and tabletop SEMs. Motorized sample translation integrates with the touchscreen controls and is available with all other sample options, including tilt and rotation, as well as the temperature-controlled stage. All Phenom systems include a sophisticated optical navigation system that displays an overview of your entire sample at all times. The SEM imaging location on your sample is always obvious, so you are "never lost". All Phenom SEMs include a long-life, high brightness, CeB6 electron source which provides striking image quality and eliminates any user maintenance.
Fully integrated EDS solution for elemental analysis:
The Phenom ProX, introduced in 2012, now features added capabilities and more imaging power. The specially designed and fully integrated energy-dispersive X-ray spectroscopy (EDS) detector, combined with an integrated software package, make the Phenom ProX the most advanced solution for fast and user-friendly imaging and analysis. The fully integrated Element Identification software package allows users to identify any hidden elements within a sample via the point-and-shoot functionality. Additionally, the software can be expanded with a combined Elemental Mapping and Line Scan option. Elemental Mapping reveals the distribution of elements within the sample. The selected elements can be mapped at a user-specified pixel resolution and acquisition time. Elements can be added or removed at any time during or after the mapping process. Line Scan allows analysis over a selected line. Results are easily exported and reported.
Innovation continues:
"Phenom World continues to innovate at an incredible rate, providing researchers, engineers, and educators with unmatched power and ease of use in an SEM," says Mark Flowers, Nanoscience Instruments' co-founder. "We are extremely excited to be providing the Phenom systems in the US and Canada and have seen incredible growth due to these new products."
About Nanoscience Instruments:
Nanoscience Instruments is the North American distributor for Phenom World and sells and supports all Phenom World products in the US and Canada. Nanoscience Instruments has sales offices in Washington, DC, Chicago, IL, and Phoenix, AZ and a full service facility at the Phoenix headquarters. Nanoscience Instruments also provides other microscopy and metrology instrumentation, including atomic force microscopes and optical profilers as well as nano- and micromanipulation and sensing instrumentation. Visit Nanoscience Instruments at http://www.nanoscience.com.