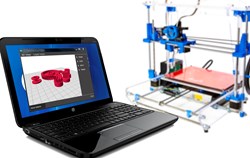 With MatterControl the entire process is simple, you can literally drag and drop your 3D designs and then hit 'start'.
Costa Mesa, California (PRWEB) September 24, 2013
Airwolf 3D today announced a new partnership with MatterHackers, Inc. that will see customers of Airwolf 3D's printers provided with a free, fully-supported, version of MatterControl Pro. In addition to providing an all-in-one 3D printing interface, MatterControl Pro is the first and only desktop 3D printing software to come with full phone and email support.
"Desktop 3D printers right now are seen as a very technical product. We hope to change that by eliminating the steep learning curve," said Erick Wolf, Airwolf 3D's President. "With MatterControl the entire process is simple, you can literally drag and drop your 3D designs and then hit 'start'."
Beginning immediately, customers of both XL and 5.5 model Airwolf 3D printers will receive access to MatterControl Pro. Customers who purchased an Airwolf 3D printer previously will be able to download their copy of MatterControl from the Airwolf 3D website.
About MatterControl
MatterControl is an all-in-one desktop 3D printing software application created by MatterHackers, Inc. MatterControl features an intuitive approach to 3D printing, allowing users to queue multiple parts for printing without pre-slicing, as well as integrating a library that enables users to organize and search their design files. MatterControl is currently available for Windows/PC and Mac OS X.
"We are pleased to partner with Airwolf 3D on this initial release of MatterControl Pro. Both of our companies are driven by a consuming desire to create great products that put the power of 3D printing into the hands of individuals," said Lars Brubaker, CEO of MatterHackers.
About Airwolf 3D
Airwolf 3D, headquartered in Costa Mesa, California, designs and manufactures desktop 3D printers. All Airwolf 3D printers are assembled entirely in the USA and incorporate 3D printed components created by Airwolf 3D printers. Airwolf 3D is a trademark of Airwolf 3D. Press contact is Courtney Ford.
About MatterHackers
MatterHackers, Inc. located in Lake Forest, California, provides professional software solutions for desktop 3D printing. MatterHackers and MatterControl are trademarks of MatterHackers, Inc. Press contact is Kevin Pope.
Other company and product names may be trademarks of their respective owners.