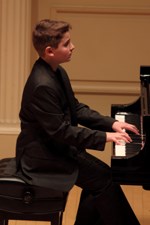 We discover stars and help them shine!
New York, NY (PRWEB) September 24, 2013
Highly anticipated Forte International Music Competition that is expected to attract many talented musicians of different ages from around the world has opened the registration for 2013-2014 season!
Forte International Music Competition is an annual event open to piano, strings, woodwinds, other instrument performers and vocalists ages 4 - 35 from any country. As part of this event, participants receive valuable feedback from judges who are members of the distinguished faculty at prestigious universities in US, as well as internationally acclaimed musicians. Talented musicians and their teachers are rewarded with certificates, various prizes and cash awards, including a Platinum Award and cash prize in the amount of $1,000.
Forte International Music Competition is committed to making the registration process easy and accessible to everyone in the world. Also, the unique structure of the competition allows participants to take part in the Preliminary and Semi-Final rounds of the competition electronically or by mail and the competitor is only requested to appear in person at the Final Round at Carnegie Hall. Plus, Forte International Music Competition is among a few competitions in the world that is happy to share informative feedback and scores from judges at the conclusion of every round of the competition.
The deadline for registration is November 5, 2013
Early Bird registration deadline is October 15, 2013
The Preliminary Round will take place on December 7, 2013 and Semi-Final Round on December 8, 2013 at Ripley-Grier Studios and will culminate in the Final Round at Carnegie Hall on February 1, 2014.
Forte International Music Competition and Festivals, Corp. is a 501(c)(3) nonprofit organization inspired by the power of music and dedicated to the discovery and development of the talented musicians through competitions, festivals, and other performing opportunities.
For more information about this event or the organization, please visit http://www.ForteMusicArt.org.