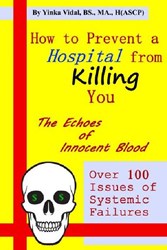 St. Louis. MO (PRWEB) September 24, 2013
Highlight: You don't have to die needlessly in hospital or in Assisted Care Living.
According to the latest report by Dr. Samantha Collier, Vice President of Medical Affairs of HealthGrade, in Jan/Feb 2005, issue of Patient Safety and Quality Care, the number of patients dying of medical errors has been underestimated. Her report indicated that 1.4 million patient safety incidents took place between 2000 and 2002 according to her estimation.
http://www.psqh.com/janfeb05/safety.html
Yinka Vidal, one of the pioneers of war on medical errors since 1977 with 40 years of experience in the healthcare industry, has written a new book that will shock the nation. The book exposes irregularities behind the walls of hospitals leading to medical errors and patients' deaths. It discusses the untold story why medical errors continue to kill patients in hospitals at alarming rates. The report reveals why anybody regardless to money, power, or position, can be a victim of the defective healthcare system.
In the new book, the author compares the medical errors report to that of A.C. Thompson's report of ProPublica and PBS/Frontline story of "Life and Death in Assisted Living" aired on July 29, 2013 (http://www.pbs.org/wgbh/pages/frontline/social-issues/life-and-death-in-assisted-living/the-emerald-city). Similarly, the author reports on the systemic failures in hospitals leading to many medical errors causing patients to die.
In this book, the author discusses seven major reasons why people should read this book, "How to Prevent a Hospital from Killing You."
First, the book offers information to consumers about many problems within the healthcare institutions that sustain increase in patients' deaths. It exposes the secret behind the reasons why many hospitals refused to fix systemic failures.
Second, the book educates patients about the defective policies, steps, and procedures, used by hospitals to deliver care to patients. In discussing such topics, it identifies over 100 issues associated with systemic failures, and how they have caused patients to die needlessly.
Third, this report comes from a unique study design in investigating medical errors from behind the walls of healthcare institutions. It engages systemic failures directly from the frontline workers, echoing the voices of healthcare professionals.
Fourth, the book gives a list of instructions to empower consumers how to protect themselves while seeking treatments inside healthcare facilities. It teaches consumers what to look for during different procedures. The goal is to offer protection to patients from being victims of a badly designed system for delivering healthcare.
Fifth, the information is this book is important to help patients evaluate hospital's care based on government's mandate of Hospital Consumer Assessment of Healthcare Providers and Systems (HCAHPS). Through Affordable Care Act, HCAHPS is the program of assessment of hospital care by patients after discharge. The score by the hospital will determine how the government will pay each healthcare institution. This program is the only law that effectively addresses the issues of medical error deaths caused by lack of compliance by hospital administrations to improve the quality of patient care. (http://www.hcahpsonline.org/home.aspx)
The government has given financial support to hospitals to help improve the quality of care. In the process, hospitals will be motivated to reduce patients' deaths. Jeff Brady, M.D. of AHRQ published this report on July 8, 2013 about the "New System for Patients to Report Medical Mistakes."
(http://www.youtube.com/watch?feature=player_embedded&v=INzhyhY3e5E)
Six, with the outline of information in this book, and the patients' review of hospital services, the consumers are now empowered to engage hospitals to improve the quality of care, that have deemed impossible in the past years.
Seventh, this new book discusses over 100 issues of systemic failures, 40 issues of patient identification errors, and about 15 major research reports on solution implementations. The public should therefore be well informed about irregularities inside many healthcare facilities. It leads the public in the process of comparing hospitals and their services. In addition, consumers will also be empowered about steps to take when medical mishaps happen to them, or their loved ones.
The report also offers critical solutions to hospital executives, and quality improvement officers willing to reduce hospital deaths, and looking for effective ways to identify systemic failures. It outlines the solution strategies that work, in the process of fixing systemic failures.
Before you check into any healthcare facilities for treatment, get a copy of this book and be an educated consumer, otherwise, you may find yourself on a cooling bed.
Contact: YinkaVidal(at)gmail(dot)com, Twitter: @YinkaVidal, Tel: 314-653-0467
Amazon Books Link: http://www.amazon.com/How-Prevent-Hospital-Killing-ebook/dp/B00FAH4ZY0/ref=sr_1_3?s=books&ie=UTF8&qid=1379898159&sr=1-3&keywords=Yinka+Vidal.
New Book on Fixing Medical Errors: How to Prevent a Hospital from Killing You: The Echoes of Innocent Blood
by Yinka Vidal, BS. MA. H(ASCP).
ISBN # 978-0-9640818-3-3, Ebook, 366 print pages,
Published by Lara Publications, Inc., September 18, 2013.
http://www.closerwalk.net/medicalerrors.htm