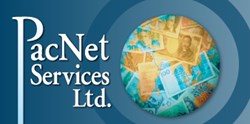 With PacNet, there is no need to contract with multiple providers, and no guesswork - we truly are a one stop shop.
Vancouver, BC (PRWEB) September 23, 2013
PacNet Services, an international payment processing company that serves the needs of companies worldwide, has confirmed that it will be in attendance at the ERA D2C convention, running September 24-26 in Las Vegas. The annual ERA D2C convention provides an opportunity for PacNet to share information on how payment strategy affects response rates in international campaigns, discuss the latest industry trends and issues and connect with merchants from around the world.
PacNet's payment experts will be on the floor at booth 316, ready to meet with attendees and share insight and advice on payment strategy in markets around the globe. "PacNet has been serving the direct response industry for almost two decades," states Brendan Mahar, VP Sales and Business Developent for PacNet, "We offer the specific payment types these marketers need to succeed, at home and internationally. Our clients enjoy access to a complete range of inbound and outbound international payment processing services. With PacNet, there is no need to contract with multiple providers, and no guesswork - we truly are a one stop shop."
The ERA D2C Convention is produced by the Electronic Retailing Association (ERA), the only trade association in the U.S. and internationally that represents leaders of the direct-to-consumer marketplace, which includes members that maximize revenues through direct-to-consumer marketing on television, online, mobile and on radio. Every year, the D2C Convention hosts over 3,400 of the leading direct response industry professionals. With unlimited networking opportunities and the biggest show floor in the industry, this is the one show where you can grow your business, learn best practices from the experts, and get face to face with the biggest names in the industry.
About PacNet:
PacNet offers a diverse range of both traditional and electronic payment services for direct response marketers, direct mailers, e-commerce, publishers and more. Some of the payment facilities offered by PacNet include check processing, credit card processing in 130 currencies, direct debit, EFT, ACH and bank transfer collection from the US, UK and around the world. PacNet also initiates outgoing payments by check and EFT for refunds, rebates, commissions and royalties in both major and developing markets around the globe.