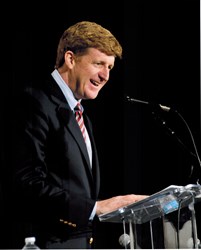 Nashville, TN (PRWEB) September 23, 2013
Foundations Recovery Network, an innovative behavioral health treatment provider, is proud to announce the start of its 39th national conference by hosting former United States Congressman Patrick Kennedy as a featured keynote speaker at the Moments of Change conference being held in West Palm Beach, FL, September 23-26, 2013 at The Breakers Hotel. This national conference brings together leading experts specializing in the fields of behavioral health and addiction treatment.
Patrick Kennedy's keynote presentation titled "Mobilizing Effective Movement Within the Mental Health and Substance Abuse Industries: a Focus on Best Practices" will highlight the need for the entire behavioral health community to join forces to effectively confront some of the industry's greatest challenges. Immediately following Kennedy's presentation, Rob Waggener, CEO of Foundations Recovery Network and Siobhan Morse, Director of Research will present the company's latest research and evidence-based findings regarding quality of care and patient outcomes.
Moments of Change is a national conference about pivotal opportunities — the critical touch points, the catalysts for transformation, and the places in time where lives are altered, healing enters in, and life starts over in a revolutionary new way. The conference offers workshops and presentations on the following topics: Intervention, Psychological trauma, Recovery support, Process addictions, Eating disorders, and Holistic/experiential treatment approaches. In all, over 45 speakers will present content incorporating evidence-based treatment therapies.
For more information about the conference please visit: http://www.FoundationsEvents.com.
About Patrick Kennedy:
Patrick J. Kennedy became the youngest member of the Kennedy family to hold elected office when, in 1988, he won election to the Rhode Island House of Representatives at age 21. Since then, Kennedy went on to serve 16 years in the United States House of Representatives, representing Rhode Island's first congressional district from 1994 to 2011. While in office, he distinguished himself as a leader on issues of healthcare, sciences, veterans, technology, civil rights, and mental health.
As a founding member of the 21st Century Healthcare Caucus; the Addiction, Treatment and Recovery Caucus; and the Down Syndrome Caucus, Kennedy has been a tireless advocate for access to health and advancements in medical research.
Since leaving office in 2011, Patrick J. Kennedy has been devoting his efforts to promoting research in neuroscience. He co-founded One Mind for Research, a nonprofit organization the mission of which is to be the leader in brain research in order to eliminate stigma, transform policy, and allocate resources that will help both our understanding and treatment of brain diseases.
About Foundations Recovery Network:
Headquartered in Nashville, TN, Foundations Recovery Network (FRN) is one of the premier organizations for treating those with co-occurring addiction and mental health disorders. FRN's treatment facilities include Michael's House in Palm Springs, CA; The Canyon in Malibu, CA; La Paloma in Memphis, TN; and full-service outpatient treatment centers in Atlanta, GA; Santa Monica, CA; San Francisco, CA; Memphis, TN; Nashville, TN; and Palm Springs, CA.
All FRN facilities utilize an integrated treatment approach, focusing on a Dual Diagnosis model for lasting recovery. http://www.foundationsrecoverynetwork.com