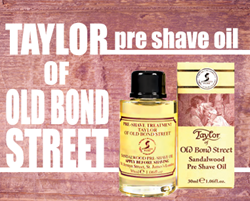 Taylor of Old Bond Street; Heritage, tradition and excellence.
Toronto, Canada (PRWEB) September 24, 2013
Taylor of Old Bond Street has given the privilege of launching their new Sandalwood pre-shave oil in North America to Kaliandee, a Canadian retailer of high-end men's grooming products and tools. Intended to eliminate irritation and reduce the chance of suffering nicks and cuts, pre-shave oils are an excellent way to enhance the already luxurious experience of shaving with a traditional badger hair shaving brush and shaving soap. The new oil, which is the third pre-shave oil to join Taylor's pre-shave line-up, perfectly complements their Sandalwood soaps, creams and fragrances, also available from Kaliandee.
Since their founding as a luxurious gentlemen's barbers in the fashionable Mayfair area of London, Taylor of Old Bond Street have over 150 years of shaving and grooming expertise behind them. Known for the quality of their hair and skin products, all of which are made from pure botanical extracts and herbal aromatics, Taylor's are in the process of carefully expanding their range of luxury products to meet increased demand from men around the world who are dissatisfied with the more modern grooming products found in drugstores and supermarkets.
Kaliandee was founded with the goal of bringing the best of the worlds grooming products to those same dissatisfied men, so to be working closely with such a respected, traditional, and high-quality firm as Taylor's is a particular privilege for the Kaliandee staff. John, who handles communications at Kaliandee, is particularly enthusiastic; "My first good straight razor shave- the one that got me hooked on traditional shaving- was with Taylor of Old Bond Street's Sandalwood Soap, so they've always been a favorite company of mine. And since Taylor's started out as a small family-run business like us, they are inspiring as an example of what can be achieved with the right focus on customer service."
Sandalwood is a tried-and-tested ingredient for shaving products and "represents elements of Tradition, Heritage and Englishness which is synonymous with the Taylor Brand", according to Paul of Taylor's. Over the years, they have found their Sandalwood formula to be particularly effective. The Sandalwood pre-shave oil improves a shave by simultaneously moisturizing the skin, keeping it pliable and less likely to nick, and by providing more lubrication beneath the lather. Interestingly, as well as improving the comfort of your shave, Paul also revealed that the pre-shave oil formula "can also be used for the maintenance of straight razors.
During his interview, which can be found on the Kaliandee website, Paul also revealed a little about how Taylor's manufacturing side operates: "Originally products were formulated in the lab at the back of the barbershop; whereas now all products must meet EU and FDA requirements and therefore pharmacists are employed to cover this. All concepts are driven from Jermyn St. and tested by the Taylor team to ensure this is the correct specification. The final product is always manufactured in the UK."
Pre-shave oils are best used by massaging a couple of drops onto the area to be shaved- best done with the skin already damp, then allowing the oil a minute absorb into the skin before lathering and shaving as normal. Taylor's also recommend preparing for a shave by taking a warm shower, or doing as Paul does- applying a hot towel to the face.
About Kaliandee:
Based near Toronto, Kaliandee is an online retailer stocking a wide selection of shaving tools, preparations, creams, soaps and post-shave products, complemented with skin, hair and body care products. They offer gift wrapping services, and have a range of wet-shaving starter sets in addition to an expanding body of advice for both novice and more advanced wet-shavers.
For more information on getting started with wet-shaving, see Kaliandee's advice page or blog.