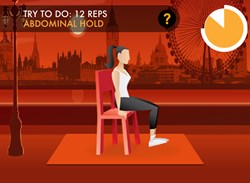 It's a full day's workout in just 20 minutes.
New York, NY (PRWEB) September 23, 2013
This month, Power 20 launches a 20-minute workout app focused on improving core strength. Power 20 Amazing Abs is part of a suite of full-body workout apps that require no equipment. All the workouts are designed to be completed in just 20 minutes. It is now available for Android and iOS devices.
Just like other Power 20 apps (Better Butt and Full-Body Workout), Amazing Abs is designed to let people start working out right away without any thinking or guesswork. Each movement is preceded by a 10 - 12 second rest period, where the move is demonstrated, followed by 20 - 30 seconds of exercise. This is also known as High Intensity Interval Training (HIIT), one of the most efficient methods of exercising.
"Amazing Abs is for all skill levels," says Power 20 creator Arshad Chowdhury. "The easiest levels are designed with older people and people with joint pain in mind. Other levels are hard enough to give serious athletes a great workout too."
With its emphasis on core strength, the app is ideal for runners who want to take a day off. The 20-minute workouts, according to the creators, are vigorous enough to suffice for a full-day's exercise session.
Power 20 Amazing Abs is available worldwide on iOS and Android. Users can try a free version with one workout at each level. The full version, with multiple unlocked workouts, is available for $0.99. The full version is periodically updated with new workouts.