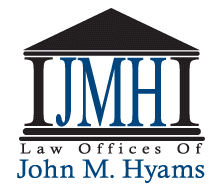 For anyone with debt problems, life can be challenging enough
Mechanicsburg, PA (PRWEB) September 23, 2013
Residents living in the Pennsylvania area who are struggling with financial issues and debt can now get a no-cost consultation with an expert bankruptcy lawyer. Complimentary initial consultations have been introduced by the Law Offices of John M. Hyams, which specializes in dealing with Chapter 7, Chapter 11, and Chapter 13 bankruptcies.
The experienced and expert lawyers at the law firm are able to offer advice and assistance to those looking to make a fresh start in terms of their financial situations. With the free consultation that is being offered by the legal experts, those considering bankruptcy can find out more about their options and make an informed decision with regards to which route to take to try and alleviate their financial issues.
In order to benefit from the consultation with a legal bankruptcy expert, consumers simply need to give the Law Offices of John M. Hyams a call for a suitable appointment to be made. With cost free access to an experience bankruptcy lawyer Lebanon residents and those in surrounding areas can get sound and expert advice relating to whether bankruptcy is the right choice and what the next step in the process will be.
A representative from the Law Offices of John M. Hyams said: "For anyone with debt problems, life can be challenging enough. However, those who need to take urgent action such as considering bankruptcy can find themselves in a very difficult situation, particularly if they know little to nothing about filing for bankruptcy. Our legal experts can guide them through the whole process, and with a free initial consultation can also talk them through what to expect at no cost to themselves. It is essential for anyone considering bankruptcy to seek expert advice beforehand for advice and support, and this is something that our experienced lawyers can provide."
To arrange an initial consultation, please visit http://www.pa-bankruptcy.com/
About the Law Offices of John M. Hyams
The Law Offices of John M. Hyams specializes in all levels of bankruptcy, offering advice and legal assistance to those considering filing for bankruptcy.
Contact information
Law Offices of John M. Hyams
555 Gettysburg Pike, Suite C402
Mechanicsburg, PA 17055
USA
Phone number: 717.766.5300