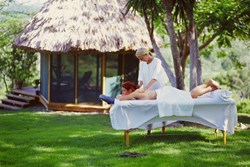 "We think you'll be surprised at how affordable it is to treat yourself to something special and start 2014 off on the right foot."
San Ignacio, Belize (PRWEB) September 23, 2013
The Lodge at Chaa Creek, the award winning Belizean eco resort, is offering an innovative way to usher in 2014 while making the most of the Christmas season, according to business manager Larry Waight.
"Christmas is such a busy time for us working within the tourism industry that we make the point of treating ourselves when the holiday season is over. It's also a great way to usher in the new year by pampering yourself and getting back to work in a positive frame of mind.
"So at a recent meeting we thought, 'Many of our guests feel the same way we do, so why not extend that concept to them? If we enjoy it so much, chances are they will too.' So the concept of the New Year Holiday Package was born.
"For many parents, especially mums, they've spent the last weeks planning and shopping, buying and wrapping presents, cooking big meals, remembering all the people to send cards to, and basically working extra hard to make sure that everyone has a great Christmas holiday. We know that it's not easy.
"So why not plan now to give yourself something special? A really nice pat on the back for a job well done and something to look forward to after cleaning up after all that hard work? If you book the New Year Holiday Package between 5th and the 19th of January 2014, you'll enjoy everything we offer with our all-inclusive Christmas package with the added bonus of taking 5% off the already low price we usually offer only for Christmas," Mr Waight said.
Mr Waight explained that annual Christmas vacation packages, which are usually sold out each year, are Chaa Creek's way of offering a holiday banquet of meals, activities, tours and relaxation time with complete access to the eco-resort's 365 acre private rainforest reserve crisscrossed by miles of well-maintained trails linking over 70 ancient Maya archaeological sites and perfect for hiking and horseback and mountain bike excursions.
With amenities such as the infinity pool, Hilltop Spa, renowned Natural History Centre, butterfly farm, fine dining under the airy thatched roofed restaurant and the convivial atmosphere of the Jungle Lounge, Mr Waight said there is something for everyone to enjoy in a Chaa Creek Christmas vacation.
"People are surprised at how affordable Chaa Creek's all-inclusive Belize vacation packages turn out to be, as everything is included, from luxury accommodation, exquisite meals, all transfers and even government taxes and staff gratuities. Except for alcoholic beverages, there is literally nothing else to buy, no hidden costs or surprise charges to detract from enjoying an incomparable, completely relaxing holiday, which is why they've become so popular and sell out each year.
"And now, by extending it into mid-January when the entire country is relaxing after the busiest time of the year, visitors will have all the benefits of the Christmas season in an even more relaxed, intimate setting.
"So whether it's grandparents or parents looking for a post-Christmas treat and having someone else look after them and take care of all the details, students or workers wanting to start the year off with a very special treat, or anyone else looking for a great Belize vacation deal, this could be for you.
"Check out the Christmas package on the Chaa Creek website, look at everything we have on offer, including the full day tours, spa treatments, unlimited activities, special Christmas surprise gift package and more, and then deduct 5% off of the entire package for a stay between 4 and 19 January 2014.
"We think you'll be surprised at how affordable it is to treat yourself to something special and start 2014 off on the right foot," Mr Waight said.