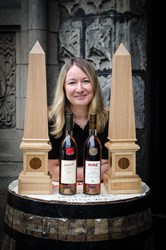 Listing on Amazon with Seller Dynamics grew my online sales by 6000% - and now I'm listing a magnificent £14,500 whisky & cognac masterpiece.Cameron McCann – Ealain Gallery
Stirling, United Kingdom (PRWEB UK) 24 September 2013
Loch Lomond-based whisky specialist Ealain Gallery has listed one of the most expensive non-jewellery items ever seen on Amazon UK through marketplace management experts Seller Dynamics.
The item in question is a magnificent limited edition pair of wooden obelisks handcrafted in the finest English oak - one housing a bottle of Glenfarclas Single Malt 1953 and the other a bottle of Hine Cognac 1953, with each of these precious rare spirits being bottled from a single family cask. It has been created by the iconic whisky and cognac houses in association with the Queen's cabinet maker N.E.J. Stevenson of Rugby, to commemorate the 60th anniversary of Her Majesty Queen Elizabeth II's coronation.
Ealain Gallery, based in the beautiful village of Drymen by Loch Lomond, has been selling on Amazon through marketplace management experts Seller Dynamics since November 2012, and have boosted their online sales by a staggering 6000% by working with the Stirling-based firm.
"Our shop couldn't be in a more beautiful setting, on the High Street in Drymen, right in the heart of the world-renowned Loch Lomond and Trossachs National Park, welcoming hundreds of customers a week. Thanks to Seller Dynamics, our online store has reached out to a world audience of millions, enabling us to grow the business fast and expand our range to include specialist items such as this incredible limited edition Auld Alliance whisky and cognac set" says Cameron McCann, owner of Ealain Gallery and his latest venture, the Stirling Whisky Shop, set a stone's roll downhill from the historic Castle.
Steve Boland of Seller Dynamics believes this is a natural progression for even the most traditional of products. "Whisky is perhaps Scotland's most famous export, with a rich and proud heritage stretching back hundreds of years, and global sales in excess of £4bn annually, reaching every country in the world. Selling online like this, as Ealain Gallery are proving, opens Scotch whisky up to many millions of connected connoisseurs, who can now track down the rarest and finest this country has to offer from the comfort of their favourite armchair"
Boland maintains that this fits perfectly with much of what Scotland has delivered to the world. "The internet couldn't exist without the great Scottish inventions of telecommunications and television, so it's only natural that another of Scotland's greatest creations should be reaching the world in this way, alongside an iconic brand from our partners in the Auld Alliance. It's exactly how the founding fathers of Glenfarclas and Hine, John Grant and Thomas Hine, would have sold their wares in the 18th and 19th Centuries if the wonder of the web had been available then, and we at Seller Dynamics are very proud to be another pioneering Scottish company helping all kinds of retailers reach out to the world with their online stores"
Meanwhile, Cameron McCann is excited at the prospect of matching his most special item of stock with one lucky buyer "Amazon has over 100 million customers worldwide. If they all turned up at the shop, they'd be queued out the door and round Loch Lomond 300 times over… so it will be fascinating to see who makes their way to the head of the queue for this quite superb commemorative set featuring the very best that Scottish and French distillers and English cabinet makers have to offer".
---------- End ----------
For further information contact Seller Dynamics
at +44 (0)1786 430076
or email steve.boland(at)sellerdynamics(dot)com
Note for editors:
About Seller Dynamics: Seller Dynamics is dedicated to helping retailers maximise their sales and profits online, by utilising the power of marketplaces such as Amazon, eBay, Play.com, and Fnac.com. With Seller Dynamics, retailers can list their entire product portfolio on these marketplaces, reaching a global audience of billions, while simplifying their overall business management through Seller Dynamics' powerful inventory management and dynamic price management tools.
Seller Dynamics is a brand of Objective Associates Limited, a leading software and web development agency based in Stirling, Scotland. The company offers Seller Dynamics on a commission based model together with a modest set up fee. Formed in 2002 with a background in class-leading enterprise-grade ATM software development, the company has significant expertise in the design and development of robust and scalable software systems utilising the Microsoft Platform and related technologies.
About Ealain Gallery: Ealain Gallery– pronounced ya-lin, is the Gaelic word for art. The gallery is located in Drymen, just on the east side of Loch Lomond in the heart of the Loch Lomond and Trossachs National Park. The Drymen shop opened its doors in November 2008 and now features some of the best Scottish Art and Scottish Whisky, with changing Scottish art exhibitions and daily whisky tastings celebrating and promoting the best Scotland has to offer, featuring contemporary art, whisky, ceramics, glass ware, pottery and designer jewellery, coupled with our gifts for all ages and occasions. Ealain Gallery, 36/42 Main Street, Drymen, Glasgow, G63 0BG.
t: 01360 660 996 e: info(at)ealaingallery(dot)com
About the 1953 Glenfarclas & Hine Auld Alliance Obelisk: Glenfarclas Single Malt and Hine Cognac have joined forces with N.E.J. Stevenson, the Queen's cabinet maker, to create a unique Coronation collaboration of obelisks crafted from English oak, one housing a bottle of Glenfarclas 1953 and the other a bottle of Hine 1953 both products of a single family cask.
Obelisks rose to prominence in ancient Egypt as tributes to the sun and were often placed in pairs at the entrance to temples or pyramids. Some were sent to Rome at the height of the Empire, in the eighteenth century they reappeared as features in art and architecture of the European neo-classical period, and during the nineteenth century giant examples were shipped to and displayed in London and Paris, where they may be seen today.
These magnificent limited edition pairs of 125 classically inspired obelisks have been commissioned from and hand-made by skilled craftsmen at N.E. J. Stevenson, Cabinet Makers by Royal Appointment to Her Majesty Queen Elizabeth II, at their workshops just outside Rugby, England. Made from English oak (Quercus robur), the tall, tapering shafts can be detached from the square pedestal bases, decorated with brown oak discs representing the sun, to reveal a rare numbered bottle of Hine 1953 and a rare numbered bottle of Glenfarclas 1953 both the product of a single cask. Each obelisk features a secret drawer, the front of the Hine drawer is faced with oak from the Hine 1953 cask and the front of the Glenfarclas drawer is faced with oak from the Glenfarclas 1953 cask.
This unique 1953 Glenfarclas is the oldest cask of whisky owned by the distillery, the contents of a single Spanish oak sherry cask bottled unfiltered at 43.9%, natural cask strength. It has a gleaming rich sandy oak colour. Initially, a rich sherried nose which develops to reveal lovely toffee notes, followed by delicate oak with crisp fresh at the bottom of the glass. A little air truly opens up this special Speyside malt whisky. Once it has had time to breathe, a warm taste of spices, stewed fruits and liquorice develops into an incredibly long finish of toffee apples and cinnamon sticks.
George Grant, Director of Sales, 6th generation of the Grant family said: "It always send a shiver down my spine, when drinking such an old whisky. My father was 18 months old when this was made, My Grandfather made this and I get the honour of sharing this magnificent whisky with you."
The Hine 1953 is a perfect example of an elegant Grande Champagne Cognac from one of the greatest vintages of the 20th century. A shimmering delicate amber in colour, a cognac which exhibits both body and distinction, aromas of spice, honey and walnuts from the French oak cask and the high humidity of the Hine cellars. This fine old cognac seduces the palate with its velvety roundness, mellowness and taste of spices and passion fruit which harmoniously linger together, leaving a delicious long aftertaste. Normally Hine Vintage Cognacs reach maturity after several decades. Unusually, this single family cask of 1953 has spent 60 years maturing in the same French oak barrel and has been bottled unfiltered at natural cask strength of 41.9% to celebrate the 60th anniversary of the Coronation of Queen Elizabeth II. In 1962 Hine was greatly honoured to be the first and, to this day, the only Cognac House to be granted The Royal Warrant by Her Majesty Queen Elizabeth II.
Bernard Hine, Honorary Chairman, 6th generation of the Hine family commnted: "I remember I was with my cousin Jacques watching the Coronation of the Queen on television on the 2nd of June 1953 at Jacques Hine's grandmother's house (1st floor of the 18, Quai de l'Orangerie) – now the Hine guest house. This was the very first time in my life I watched television. "
Just 125 of these pairs of obelisks have been made; reflecting the extraordinary rarity of these outstanding spirits. A pair of obelisks containing a numbered bottles of Hine and Glenfarlcas 1953 will retail for £14,500