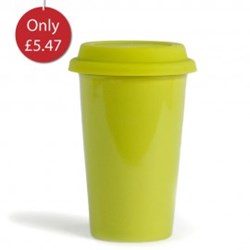 To take advantage of MLN Homewares offer on kitchen storage and ceramic travel mugs, customers should add discount code MLNSTUDENT10 to their shopping cart.
(PRWEB UK) 24 September 2013
September and October is an important time in the student calendar, thousands of students across the country are taking the big plunge and heading off to university. This is an expensive time for both the students and their parents with university life essentials being high on the spending agenda.
With the cost of university rapidly increasing in recent years, any discount offers or savings are extremely important to students. According to The Telegraph (2013) the financial future faced by today's university students is not a comforting one. Those who started their degree last autumn will graduate with an average debt of £53,330. Therefore any opportunity to save on living essentials is highly valued by university students.
As experienced suppliers of kitchen, bedroom, bathroom and home décor products, MLN Homewares know that items which make this transitional time easier are extremely important. This is why MLN Homewares is offering a helpful 10% off all of their ceramic travel mugs and kitchen storage. Travel mugs are incredibly popular with consumers and used widely by students to take a homemade cup of tea or coffee to university to help them start the day. To take advantage of this offer, customers should add discount code MLNSTUDENT10 to their shopping cart. The offer ends on 30th September and is valid for one order per customer only. This order cannot be used in conjunction with any other offer.
In addition to this, MLN Homewares offer a range of university must-haves for under £10. Ten useful items included in this range are:
1. The Wooden Salt Shaker and Pepper Mill Set. This lovely set is available in red, black and purple. Priced at just £6.57 they are a great university bargain.
2. Bright Red Tin Biscuit Canister. This cute tin is sure to brighten up any kitchen or student dorm room. For those who like to keep their biscuits hidden, this is the perfect place to store a cheeky treat as its only £6.57.
3. Ceramic Travel Mug. Available in red, purple and green these mugs are only £5.47 and are an ideal and cost effective way for taking a warm drink to university.
4. Freestanding Mirror with Bamboo Base. At just £7.67 this mirror would work well in any bathroom or bedroom.
5. Set of Three Diamante Jewelled Photo Frames 2" x2". Perfect for storing small photos of family and friends, at just £3.84 these frames are a great bargain.
6. Metallic Lime Duck Money Box. At only £4.37 this cute little duck is perfect for saving the pennies for those student nights out.
7. Set of 4 Cork Backed Polka Dot Coasters. Ideal for when friends and family come to visit, these coasters are only £3.27.
8. White Ceramic No Spill Travel Mug with Silicone Band. Available with pink, green and red bands these practical mugs are only £6.47.
9. Zeal Grate and Serve Tower Cheese Grater. These colourful cheese graters make grating cheese mess free and are only £7.47.
10. Gisela Graham Summer Garden Ceramic Hanging Heart. At just £5.47 this would be ideal for hanging on door handles to add a more homely feel to a student dorm.
MLN Homewares are online retailers of home décor items, kitchen accessories and bathroom products; they aim to provide their customers with the most competitive prices on the web. All of their products are delivered for free and come with MLN's fantastic customer service!
Contact the friendly team at MLN Homewares to find out more about their student discount offer and the products included in the range at info(at)gocreative-uk(dot)com.