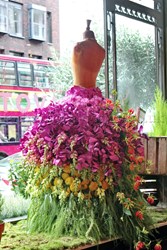 'We wanted to get involved with this special London event' says head florist Kalina Lokinska. 'Our team researched into the latest fashions, styles and trends and came up with a fashionable flower window design that had a positive impact on passers-by.'
(PRWEB UK) 25 September 2013
The London florist regularly provides dazzling flower displays for French restaurant 'Brassiere Chavot', but this month, and inspired by London Fashion Week, the floristry team wanted to do something a little different for their special client.
Mixing flowers with fashion, head consultant Laura Fisher chose to design a stunning floral dress that incorporated fresh flowers and foliage in trendy fashionable colours. Influenced by London Fashion Week's summer catalogue, the floristry team included contemporary flowers in bright, vibrant shades.
Adding a splash of colour to their display, the UK florists combined pink sedum, cerise eucalyptus leaves, yellow achillea, orange gloriosa, red antirrhinum, thlaspi (green bells), pink dahlias and green amaranthus to the dress which stood proudly on a moss surround.
Todich Floral Design London was in keeping with the restaurant flowers theme by sourcing an antique French mannequin that was dressed with the floral attire in similar colours to the venue.
The summer dress was fastened around the mannequin's waist and flowed to the floor in a waterfall of colours. Todich Floral Design teamed up with Tateossian Jewellers to add a finishing touch to the display. Tateossian supplied two delicate necklaces which worked beautifully with the flower dress and mannequin.
To add to the London Fashion Week experience, the Todich Floral Design florists and fashion student Jake Gooden created the flower outfit in front of a live audience of diners and hotel guests. The audience were able to watch the skilful London florists as they worked whilst enjoying viewing the evolution of the display.
'The combination of flowers, jewellery and food with London Fashion Week made this exhibit an absolute sensation'. says Managing Director Todd Z. Todic 'The window display's mannequin was centered around a vintage picture frame, wooden wine crates and live cypress plants which gave a fresh country garden appeal."
About Todich Floral Design
Todich Floral Design is a wedding and corporate florist based in London that specialises in providing stylish flower designs for bespoke weddings and events. Established in 2001; the company offers an expert service for unbeatable value. Todich Floral Design prides itself in creating beautiful displays for clients, hotels and restaurants on a weekly basis.