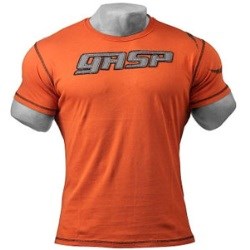 Muscle Finesse are proud to be expanding two of their most popular ranges, GASP and Better Bodies clothing.
(PRWEB UK) 24 September 2013
Good workouts require preparation, and clothing choice is a large part of this process. The right clothes can make or break a workout, affecting body temperature, freedom of movement, and even recovery times. Combined with this is the fact that many athletes don't merely want to perform well, but to look and feel good both in and outside the gym.
With this in mind, Muscle Finesse are proud to be expanding two of their most popular ranges, GASP and Better Bodies clothing. Both collections of workout clothing and equipment are continuing to be expanded upon during September, with additional styles and types of clothing added to the popular, athlete-friendly range.
Better Bodies Clothing seeks to supply serious athletes with everything they need to make the most of their workout. Straps, wraps and gloves facilitate greater lifts at reduced risk, while expertly designed tanks, tees, shorts and pants allow athletes to push themselves harder than ever while keeping range of movement and temperature control unrestricted, along with enough choice in colour and style to stay fashionable.
The expanded range of GASP Clothing shares many of the above goals, understanding the desire to boost performance and look good, whether in the gym or on the street. The GASP collection of tanks and tees are especially suited to accentuate figures with extreme muscle mass, while their mesh training shorts and pants look and fit great on powerful lifters with powerful legs. The collection is rounded out with shirts, sweaters, cargos and jeans, street wear which compliments and highlights a strong body.
The two collections are both exceeding sales expectations for Muscle Finesse, with a number of discounts currently being applied across select trousers, tops and tees. Athletes and retailers alike are invited to browse the expanded selection of workout gear.
Muscle Finesse are one of the UK's leading suppliers of bodybuilding and fitness supplements, accessories and clothing. Operating from their headquarters in Peterborough they sell athletes and consumers, along with supplying over 1,000 gyms, retailers, and professional trainers throughout the country.
Interested parties are welcome to visit http://www.musclefinesse.com/ to check out the new stock expansion and other offers, or the company can be contacted at any time. Send an e-mail through to support(at)musclefinesse(dot)com, or call 01733 232 994 between 9:00am and 5:30pm, Monday to Friday.