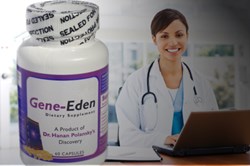 Recognizing how a virus can be passed from mother to infant is the first step. The second obvious step for these mothers is to find a way to help the immune system target the latent form of the virus and eliminate it.– Mike Evans, polyDNA
Rochester, NY (PRWEB) September 24, 2013
polyDNA's September survey showed that many women didn't know that the Epstein Barr Virus (EBV) can be transmitted to their infants through breast milk.
Most women are infected with the Epstein Barr Virus. The CDC's website says on a page last updated on May 16, 2006 that as many "as 95% of adults between 35 and 40 years of age have been infected (1)." In addition, the CDC notes that "Many children become infected with EBV… When infection with EBV occurs during adolescence or young adulthood, it causes infectious mononucleosis 35% to 50% of the time. Symptoms of infectious mononucleosis are fever, sore throat, and swollen lymph glands. Sometimes, a swollen spleen or liver involvement may develop. (1)." The CDC also says that EBV is associated with "the emergence of Burkitt's lymphoma and nasopharyngeal carcinoma", two cancers in which the Epstein Barr Virus appears to play an important role. EBV can cause infectious mononucleosis and "a lifelong (latent) infection in some cells of the body's immune system (1)."
EBV can be transmitted during breast feeding. "We have demonstrated that … EBV may be present in the milk of … normal lactating women (2)," according to a study published in September 2012 in the medical journal BMC Research Notes (2).
In the open comments section of polyDNA's survey, Sarah J. of Boston said, "I've heard that HIV can be transmitted through breast milk, but I didn't even think of other viruses being passed in the same way! I bet most moms don't think about this either."
"Recognizing how a virus can be passed from mother to infant is the first step. The second obvious step for these mothers is to find a way to help the immune system target the latent form of the virus and eliminate it." – Mike Evans, polyDNA
Gene-Eden-VIR is a natural EBV remedy that was designed to help the immune system target latent viruses. A recent post marketing clinical study published in the peer reviewed, medical journal Pharmacology & Pharmacy, in a special edition on Advances in Antiviral Drugs on August 12, 2013 showed that Gene-Eden-VIR is safe and effective (3). Additionally, up to 70% of those studied reported a decrease in viral symptoms (3).
Each ingredient of Gene-Eden-VIR was chosen through a scientific approach. Scientists scanned thousands of scientific and medical papers published in various medical and scientific journals around the world to identify the safest, most effective natural ingredients that target the latent form of herpes. (3)
To learn more about Gene-Eden-VIR and herpes, visit http://www.gene-eden-kill-virus.com/Herpes-Remedy.php. All orders of Gene-Eden-VIR are completely confidential, and no information is shared or sold to any third party. Privacy is assured.
Reference:
(1) http://www.cdc.gov/ncidod/diseases/ebv.htm
(2) http://www.ncbi.nlm.nih.gov/pubmed/22937830
(3) http://www.scirp.org/journal/PaperInformation.aspx?PaperID=36101
polyDNA is a biotechnology company that develops dietary supplements using the unique scientific method developed by Dr. Hanan Polansky, which is based on Computer Intuition.
In addition to his unique scientific method, Dr. Polansky published the highly acclaimed scientific discovery, called Microcompetition with Foreign DNA. The discovery explains how foreign DNA fragments, and specifically, DNA of latent viruses, cause most major diseases.
polyDNA developed Gene-Eden-VIR , an antiviral natural remedy that helps the immune system kill latent viruses.