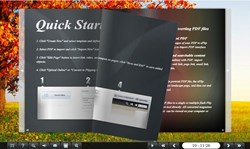 (PRWEB) September 23, 2013
3Dpageflip.com is a well known software house offering different software solutions for digital media publishing industry. Today the company has added the latest version of 3D page flip standard to its website.
The software is ranked as one of the best PDF to flipbook makers available today. The realistic 3D effects it can create considerably improve the optical effect of every flip page so that it becomes attractive as well as engaging for the readers. Among other things, this software package is equipped with several features like predesigned templates, images, backgrounds and much more. All these customizable features allow users to create a professional product instantly. The user friendly interface also saves time for users. The 3D page turning effect make the e-book look very realistic and interactive.
Support for Windows and Mac is included and the output files can be made into Zip, EXE or even HTML5. Any PDF, MS Office, OpenOffice or image file can be converted into a flipbook using this software.
The CEO of the company has shared with the customers, "3D flip page software is absolutely a new idea in the whole industry. Now, we show our claimed value propositions right here and right now…3D PageFlip Professional is especially suitable for editors, publishers, and other 3D flash lovers. It lets users quickly review the motion and timing in an animation. You can also call one of our customer service representatives and they will explain more in details."
3Dpageflip.com was created in the year 2008. It specializes in offering professional apps to create e-books and is known for its cheap prices.