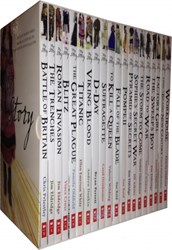 Leicester, UK (PRWEB UK) 25 September 2013
Snazal Wholesale Books http://www.snazal.com announces it is now offering the My Story Collection of books set, for purchase online.The book set of 20 books include the titles of Road to War, Factory Girl, PompeII, The Sweep's Boy, Titanic, To Kill a Queen, and Roman Invasion.
My Story Books Box Set Pack includes - Battle of Britain, The Trenches, Roman Invasion, Blitz, The Great Plague, Titanic, Viking Blood, D-Day, Suffragette, To Kill a Queen, Sophie's Secret War, The Storm to Come, Road to War, Fall of the Blade, Pompeii, Pyramids of Secrets, The Sweep's Boy, Factory Girl, 1900 - A Brand New Century and Workhouse. My Stories Books - History gift set pack. (20 Books Includes in My Story Collection) Paperback. Want to introduce history to your children in a way that's interesting, educational, and fun? Then consider the My Story Collection Set - a 20 Books set covering 20 historically significant events in history, such as the Pyramids and ancient Egypt, Pompeii, the Great Plague, and more!
This giant My Story Books Pack Set lets you relive significant events in history. As your imagination transports you to Pompeii, the Titanic, and the Great Depression you'll see the mighty Vesuvius spew lava, feel the great ship hit the ice berg, and hear the cries of hungry children. No longer will you wonder what it was like to live in such perilous times!
My Story is a series of historical novels for children published by Scholastic UK. They are similar to the Dear America series, each book is written in the form of the diary of a fictional young woman or man living during an important event in history. Most of the books feature British characters and history, but some are about non British characters during important events and times in world history.
Since 2006, Snazal has grown to become a worldwide book distributor, supplying independent bookstores and other small business venues with specially selected, handpicked titles. Snazal offers more than 500,000 books on a variety of topics, ranging from children's interests to history, to the general public and trade communities. To date, this UK-based supplier has worked with prestigious distributors and publishers to serve more than 1 million customers.