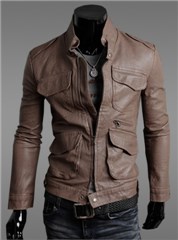 (PRWEB) September 24, 2013
4leafcity.com is a popular online shop offering high quality clothes for men and women. Recently, it has added many cheap men's leather jackets to its website.
The leather jackets are popular in the fashion industry. It is trendy among men, especially young men. What the website offers now are the newest designs of leather jackets.
"Besides men's leather jackets, we also provide other clothes and several different accessories for men and women. We aim to offer the best products at cheapest price. All of our products are of international-level quality and we do business in the global market." The spokesman says, "We'd like to be an innovative company. We keep up with the latest fashion trends. We communicate with our clients often. We care about what our customers really want and how they think about us."
Providing fashion accessories, women's dresses and men's coats, 4leafcity.com is a company known for a great number of award-winning designs, and the company is looking forward to a greater success in the years ahead. With the distinctive marketing strategies and premium quality dresses, 4leafcity.com is not a dress company to underestimate.
Established in the year 2008, 4leafcity.com is now a leading company dealing with women and men clothes. It is a China based company serving people around the world. More information at:
http://www.4leafcity.com/product-men-s-leather-jackets-009003002.aspx.