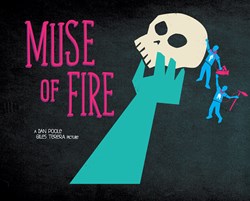 Shakespeare isn't some distant God, he's a guy.
(PRWEB UK) 23 September 2013
Debuting at the Raindance Film festival this Friday 26th September at 12.30pm and with a World Premiere on the 27th September at 6.15pm, 'Muse of Fire', produced by actors and debut film makers, Dan Poole and Giles Terera focuses on their attempt to tackle Shakespeare, the greatest storyteller of all time. The film documents their four year journey around the world where they fight to secure interviews with actors including James Earl Jones, Tom Hiddleston, Dame Judi Dench, Jude Law, Ewan McGregor Baz Luhrmann and Sir Ian McKellen and attempt to demystify Shakespeare for the general public, actors and students around the world.
Billed as 'a cross between the Long Way Down and Flight of the Conchords', the film is in part about the Bard but also their own incredible journey as the friends cross continents and encounter people from all walks of life in seeking the common understanding of a storyteller dead for more than 400 years. The trip takes in Jude Law's Hamlet in Denmark, fighting their way to Baz Luhrmann in Hollywood, sending a cake to Dench to secure an interview and spending time in a prison with Shakespeare in Berlin.
The two friends entirely self funded the film and their incredible journey is one of the most eagerly anticipated films showing at the Raindance film festival this weekend.
According to Poole:
"It has been an incredible journey, the greatest journey to get to where we are. As schoolboys we both hated Shakespeare, we were led to believe Shakespeare wasn't for us. We invested so much in this project, and at times it could have been the end of us, but it wasn't and inperevering we found that there is a common thread that unites people in their liking of Shakespeare and his profound relevance in how we approach everything in life!"
According to Terera:
"Muse Of Fire is the biggest challenge and reward of my life. We made the film a metaphor for Shakespeare and Shakespeare is in turn a metaphor for life- the only way to do it is to take the deepest breath and go for it, all the way!"
Note to Editor
Imagery including photos, and trailer available in SD and HD.
View on IMDB
Screening at RAINDANCE Film Festival - 26th SEPTEMBER 12.30PM - 27th SEPTEMBER 6.15 PM - Raindance
Screening at PICTUREHOUSE Cinemas - 14th OCTOBER 6.30PM - Picturehouse Cinemas
Quotes:
Baz Luhrmann - " Once it's revealed to you, you realise-and this is the most profoundly beautiful thing about it- Shakespeare isn't some distant God, he's a guy. Sure he's gifted, but the more the language is revealed, the more fantastic it is. And that's the true measure, I think, of an artist, is that the more they do the more they reveal their 'like you-ness.'
James Earl Jones – "With Shakespeare emotion is a very important part of it, but the thing is not to let the emotion obstruct the rhythm and vice versa. Because the rhythm helps move the speech along. If you can get those two things together you've got a pretty good delivery I think."