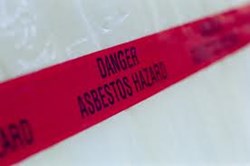 There were clear failings by both companies to identify and properly manage and control the asbestos containing material before work started, and to provide appropriate protection for workers when it did.
Bolton, UK (PRWEB UK) 26 September 2013
Dairy Crest Ltd was prosecuted alongside REWCO by Plymouth Crown Court on Friday 13 September, after Health and Safety Executive identified failings and lack of training for workers involved.
It is believed that asbestos dust and fibers were released on 25 May 2010 in a redundant Dairy Crest site, during the removal of industrial boilers, associated fixed pipework and a boiler house. Allegedly, the hazardous material remained exposed until a clean-up operation occurred two days later. (1)
According to the Court documents, Dairy Crest Ltd had agreed to sell boilers from the redundant plant to REWCO, with the welding company taking responsibility for dismantling the pipework, and demolishing the boiler house as part of the deal. (1) (2)
According to the HSE, the Rochdale welding company started removing boilers on the 24 May. At this point they had failed to carry out the necessary surveys, which would have determined whether or not asbestos was present. Moreover, it is alleged that the three workers tasked with removing the boilers and pipework, carried out the task while wearing normal clothes. Consequently, this meant that their clothes became contaminated with asbestos dust and fibres. As a result, the workers could potentially face long-term respiratory problems, and their exposure to Asbestos means they have the potential to develop lung diseases, such as mesothelioma. (1)
The inspection conducted by the HSE, 3 days later, revealed asbestos contamination within the premises, and actions were immediately taken to prevent any further risk of exposure. (1)
Commenting on the news, Tom Fairclough, Executive from Asons Solicitors, said that:
"According to the HSE Press Release, it is alleged, that the three workers who carried out the work weren't licensed contractors, and that they had not been warned about the dangers of asbestos exposure. As a result, they have been put at risk.. Their exposure to airborne asbestos fibres was entirely preventable, and these circumstances highlight the importance of asbestos surveys." He added:
"I strongly feel that no one should suffer because of employer negligence. Those who have experienced similar working conditions, or suffer from lung cancer after being exposed to an asbestos-contaminated working environment, should not hesitate to make an asbestos claim."
Dairy Crest Limited was fined £12,000, and ordered to pay a further £22,214 in costs, after pleading guilty to a single breach of the Control of Asbestos Regulations 2006 in their capacity as the main duty holder for the site.
Rochdale Electric Welding Company Limited pleaded guilty to two breaches of the same legislation, for its role in undertaking the work. The company was fined a total of £8,000 with £13,786 in costs.
Speaking after the hearing at Plymouth Crown Court, HSE Inspector, Martin Lee said:
"This was a very serious incident that could severely impact on the future health of the employees who worked with and near the asbestos. Both Dairy Crest Ltd and Rochdale Electric Welding Company Ltd committed safety failings that led to them being needlessly exposed to dangerous dust and fibres.
"There were clear failings by both companies to identify and properly manage and control the asbestos containing material before work started, and to provide appropriate protection for workers when it did.
"This totally needless incident would not have happened if Dairy Crest Ltd had provided Rochdale Electric Welding Company with the results of its asbestos survey and if Rochdale Electric Welding Company had carried out proper enquiries before commencing work at the site." (2)
Asons Solicitors have a dedicated team of industrial disease specialists dealing with cases of asbestos related diseases, giving people legal advice, particularly in the area of asbestosis claims. Exposure to asbestos can be deadly, and Asons urge anyone who feels they may have been exposed to asbestos fibres to consult their GP immediately for a consultation and contact an industrial disease specialist for legal representation.
Asons Solicitors suggest that if someone would like to learn more about the asbestos compensation process, or if they would like to better understand the condition, that information is available at http://www.asons.co.uk, or via an expert helpline on 01204 521 133
(1) HSE – Fines imposed for asbestos exposure at redundant Dairy Crest site, 16/09/2013 hse.gov.uk/press/2013/rnn-sw-dairy-crest-rewco.htm
(2) Plymouth Crown Court, 13/09/2013 – Case Number S20130154 – S20130155

About Asons Solicitors:
Asons Solicitors is a Bolton-based law practice that specialises in personal injury and industrial disease claims. Founded by brothers Imran Akram and Kamran Akram, Asons Solicitors has developed to become a young and dynamic law firm that delivers practical solutions to clients in times of difficulty. Their continued focus on their staff has seen them awarded with the Investors in People "Gold Award"; which is reflected in the professional and personable approach they take in working with clients. They strive to grow and to develop, and their supportiveness and attention to detail ensures that their clients use them time and again.
For further information contact:
Email: info(at)asons(dot)co(dot)uk
Website: http://www.asons.co.uk