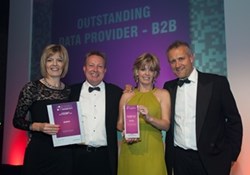 "Marketscan's phenomenal Megabase made the decision a straightforward one for the judges." Beverley Turner, Awards host
(PRWEB UK) 24 September 2013
For the third year in succession, an independent judging panel has selected Marketscan as winner of the Outstanding B2B Data Provider Category at the Database Marketing Awards ceremony, in the face of stiff competition from major suppliers.
This sparkling well attended event in the marketing industry's calendar was held in the stunning setting of The Brewery in the City of London on the 10th September 2013 with many leading figures present.
Database Marketing Magazine is the voice of the Industry and the winning certificate was presented by the CEO of sponsor Postcode Anywhere, Guy Mucklow, to Marketscan's Managing Director, Julie Knight. The judging panel comprised senior figures from some of the UK's major companies, including the Financial Times, IPC Media and American Express.
Announcing the winner, the host said:
"Was there ever any doubt? This is the hat trick in this award for Marketscan – three consecutive victories for and all built on Marketscan's phenomenal Megabase which made the decision a straightforward one for the judges."
Marketscan supplies sales leads and CRM database services to any company wishing to grow its business and acquire new customers. Clients range from SME's to major corporates.
Marketscan's vision was, and still is, to offer an innovative range of products and services to the B2B marketing community which set new standards in lead generation and convenience, all from a single source.
At the core of the company's operations is a quality enhanced, reference database of UK business, built from the UK's five top data sources. Known as the Marketscan Megabase, the database incorporates a number of unique and innovative features and is the basis of all the company's products.
Customer service, which has been rated as excellent or good by 96% of respondents in client surveys, focuses on a personal approach by highly trained and experienced staff that pays close attention to detail. Telephone contact is quick and responsive, unencumbered by voicemail or recorded messages.