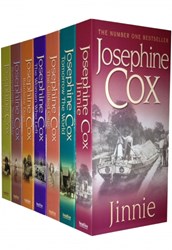 Josephine Cox Series
Leicester, United Kingdom (PRWEB UK) 24 September 2013
Snazal Wholesale Books (link: http://www.snazal.com) announces it is now offering Josephine Cox Books, written by Josephine Cox, for purchase online. The series of teen novels includes the following titles: "Tomorrow the world," "Jinnie," "Rainbow Days," "The women who left," "Somewhere someday," "Looking back," and "The gilded cage".
Josephine Cox won the 'Superwoman of Great Britain' Award, at the same time as her novel was accepted for publication. She is now a No.1 bestselling author with over 40 books to her name.Buy From Josephine cox series from Snazal.
Since 2006, Snazal has grown to become a worldwide book distributor, supplying independent bookstores and other small business venues with specially selected, handpicked titles. Snazal offers more than 500,000 books on a variety of topics, ranging from children's interests to history, to the general public and trade communities. To date, this UK-based supplier has worked with prestigious distributors and publishers to serve more than 1 million customers.