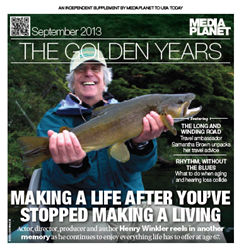 New York, NY (PRWEB) September 23, 2013
With over 10,000 people turning 65 each day, it is a defining issue of our society to understand what to do next and how to best maintain optimal health in the second act of life. Mediaplanet's 2013 edition of 'The Golden Years' hit newsstands on, September 20th, within the weekend edition of USA TODAY. The 12-page special remained on stands through Saturday and Sunday. 'The Golden Years' was distributed in highly targeted markets within USA TODAY, with approximately 450,000 copies distributed and an estimated readership of 1.3 million. To explore the digital version of the campaign, click here.
This glossy, full-color special section, featuring Henry "The Fonz" Winkler, actor, director, producer and author, is both a source of inspiration for those entering retirement, and an empowering guide for readers to learn more about embracing life to the fullest. It serves to educate readers about the topic through the acknowledgment of finding the passion of life, while also inspiring readers to take a more positive approach when it comes to their own outlook through amazing stories of giving back, hobbies, and family matters.
With the support of the National Council on Aging, AARP, The Hearing Loss Association of America, American College of Cardiology, The National Bone Health Alliance, Senior Helpers, Dr. Alton Morse, Jillian Michaels, VTech Electronics, Nature's Own, NordicTrack, One Reverse Mortgage, Vibrant health, BIG Launcher, Allergan, Envoy Medical, Enzyme Labs and more, Mediaplanet united key thought leaders, organizations and companies, resulting in a concise showcase of necessary health resources while also encouraging readers to continue to find the passion and purpose of life at any age. For full campaign, please see "The Golden Years."
About Mediaplanet
Mediaplanet is the leading independent publisher of content-marketing campaigns covering a variety of topics and industries. We turn consumer interest into action by providing readers with motivational editorial, pairing it with relevant advertisers, and distributing it within top newspapers and online platforms around the world.