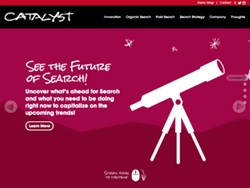 Boston, MA (PRWEB) September 24, 2013
Catalyst, a leading search engine marketing firm, announced today that its new website received an Outstanding Website WebAward. The agency's fully responsive site was recognized by the award program for its innovation and outstanding use of color and vertical scroll.
Catalyst specializes in developing innovative digital marketing solutions for Fortune 500 companies. But the agency also injects innovation into its own marketing efforts. Catalyst's website (http://www.catalystsearchmarketing.com) was honored by the 2013 WebAwards. Developed by Digital Marketing NOW, the website received an Outstanding Website award.
"Innovation is core to our business," said Rich Ezzo, Director of Sales and Marketing for Catalyst. "As part of our rebranding effort, we wanted to develop an engagement point that reflects our innovative approach to digital marketing challenges. And we also wanted to communicate the creativity and energy our solutions bring to the table. The new design accomplishes both! We are delighted with Digital Marketing Now's design and implementation. They have proven to be an outstanding agency partner."
Catalyst's website competed in the awards program with more than 1,500 entries from 40 countries in 96 industry categories. Entries were judged on design, copy writing, innovation, content, interactivity, navigation, and use of technology. The program was judged by members of the media, advertising executives, site designers, creative directors, corporate marketing executives, content providers and webmasters. Catalyst's site scored far above the competition in innovation.
"We are thrilled about winning this award for the Catalyst website," said Tom Shapiro, CEO, Digital Marketing Now. "From Day 1, it was clear that innovation was a huge part of Catalyst, but that element was missing from their old site. We were committed to developing a new site that would truly convey their innovative thinking and approach to digital marketing."
About Catalyst
Catalyst, a pioneer in search engine marketing since 1998, is renowned for developing strategic digital marketing solutions for Fortune 500 brands. The firm is the search agency of record fo¬¬r many of the world's top companies. Headquartered in Boston with offices in New York, Chicago, Seattle, Toronto, and Montreal, Catalyst serves numerous B2B and B2C clients in a variety of industries. The search engine marketing firm prides itself on being THE Search Innovator of the industry. Catalyst's offerings include: search engine optimization (SEO), paid search marketing (PPC), social SEO, content strategy, digital asset optimization, mobile search, e-retail optimization, local search optimization, global search, and competitive reporting. Catalyst is a wholly owned subsidiary of WPP, and is part of GroupM. For more information about Catalyst, please visit http://www.catalystsearchmarketing.com.