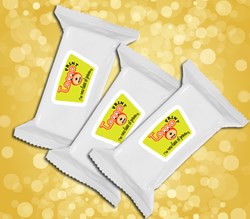 What better way to start the month of 'Trick-or-Treating,' then to send out candy bars to show our appreciation to customers that have made us a success these past few months
Southampton, PA (PRWEB) September 25, 2013
TomoPrint.com has a sweet delivery for their customers. With every order placed in the month of October, TomoPrint.com will send a candy bar with a personalized wrapper to their door.
"What better way to start the month of 'Trick-or-Treating,' then to send out candy bars to show our appreciation to customers that have made us a success these past few months," their CEO said.
The candy bar will be delivered in the mail with a personalized wrapper for each customer placing an order between October 1 and October 31, 2013. There is no limit on the amount of orders placed to receive the free candy bar.
Besides offering free candy bars with every order, Tomoprint.com is also sponsoring a jingle contest. The winner of the jingle contest will win a $500.00 gift card.
The response has been overwhelming so far and the judges are narrowing down the field to just a few submissions.
Submissions have been pouring in since the beginning of the contest back on August 1.
The winner will be announced on November 30, 2013.
For more information regarding the contest, visit http://www.tomoprint.com.
TomoPrint.com, is a full service printing company that provides the largest selection of printed professional marketing materials for businesses (big and small) and individuals who demand quality and exceptional service.
TomoPrint can be found on Facebook, Twitter and LinkedIn. Check out TomoPrint.com for very informative blogs and sign up for the free newsletter. Signing up will give customers priority status to receive special offers today. To see more printing and marketing ideas, visit TomoPrint.com.