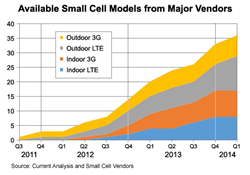 With attention toward small cells reaching critical mass, this nascent market segment is reaching an inflection point.
Sterling, VA (PRWEB) September 24, 2013
Current Analysis, the market leader in continuous, tactical market intelligence and analysis for the telecommunications and technology markets, announced today the launch of new, more in-depth analysis of small-cell equipment portfolios, focused on seven major equipment vendors. Within that group, Alcatel-Lucent's portfolio is rated the most competitive despite the entrance of Cisco Systems and the advancement, in Current Analysis' rankings, of Huawei Technologies, among other changes.
With attention toward small cells reaching critical mass, this nascent market segment is reaching an inflection point. The number of different small-cell base station offerings available from major equipment vendors collectively will more than double this year and continue to increase in 2014 as early deployments ramp. Major vendors' portfolios saw drastic changes in 2013 as suppliers worked to keep up with fast-changing operator requirements. The year saw mergers and acquisitions, strategy shifts and new entrants. A detailed examination of each vendor's strengths, weaknesses and differentiators helps industry stakeholders navigate the space.
Updated every six months, the analysis includes the small-cell portfolios of Alcatel-Lucent, Cisco Systems, Ericsson, Huawei, Nokia Solutions & Networks, Samsung and ZTE. It includes detailed examinations of these vendors' outdoor, indoor and residential small-cell offerings as well as their market strategies, including in the crucial area of small-cell backhaul. This analysis is complimented by separate ongoing analysis of the small-cell backhaul segment -- spanning major RAN vendors, backhaul specialists and startups.
"Last year, the first installment of our small cell Portfolio Intelligence Assessments revealed some interesting trends," noted Peter Jarich, VP of Consumer and Infrastructure, "including an increased focus on indoor deployments (confronting a historical soft spot for mobile operators), differentiation based on varying approaches to WiFi (from no support at all in some cases to integrated support and optimization tools) and specialization around 3G and LTE offerings (with development of multi-mode small cells now underway). A year later, it's remarkable to see how much the market has evolved."
"Vendors have been talking about small cells for a while, but their portfolios have finally become mature enough now that we can take a really thorough look at a wide swath of major suppliers," according to Ed Gubbins, Senior Analyst with the Service Provider Infrastructure practice. "Now that Cisco has acquired Ubiquisys, now that NSN and Huawei have altered their portfolios, now that some of these vendors have established partnerships and products for backhaul – now we can really dig in and get the clearest picture yet of where they stand in this important space."
About Current Analysis
Current Analysis (http://www.currentanalysis.com) is the only provider of real-time, in-depth tactical market intelligence, analysis, and advice. The company has been helping leading telecommunications, information technology and business software companies improve their market intelligence, identify strategic growth opportunities, and win more business. For more than 15 years, sales teams, product managers, marketing professionals, and executives have relied on Current Analysis as a trusted partner to improve their ability to anticipate and quickly take action on market opportunities and competitive threats. The company serves more than 35,000 professionals at over 1,400 global enterprises.