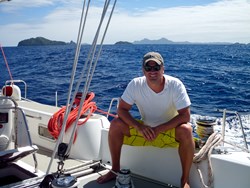 Bring cash in multiple currencies as cash remains king in many places around the world.
New York, NY (PRWEB) September 25, 2013
ExpertFlyer.com®, the premier online air travel information tool, which now offers its award-winning Seat Alerts® feature as a free app to all travelers, recently sat down with travel writer, TV personality and global adventurer, Lee Abbamonte. At 35 years old, Abbamonte is currently the youngest American to visit every sovereign nation in the world and has his sights set on becoming the youngest person to visit all 321 countries and territories on Earth. As you might expect, Abbamonte has amazing stories to tell about his traveling adventures, but also offers a few tips for those of us who want to visit fun and fascinating places without breaking the bank.
During the interview, Mr. Abbamonte offered solid advice about where the best deals can be found, how to get "accepted" by the locals, and how to maximize your time and money wherever you go.
"The best advice I can give travelers is to bring cash in multiple currencies and denominations as cash remains king in many places around the world," says Abbamonte. "Learn the general language basics of the country you're visiting as that can really endear you to locals; and make a list of things you want to do before you arrive, but leave time for some of the wonderful things you simply stumble upon."
"There are pros, and then there are experienced pros, and Lee Abbamonte certainly falls into the latter category," says Chris Lopinto, president and co-founder of ExpertFlyer.com. "While conducting your own research and using technology tools available today are encouraged, I think the best resource for getting the inside scoop on destinations is by talking to those who have experienced it."
Once Lee Abbamonte completes his scheduled travels through March, 2014, he will have two countries remaining to break the record -- Wake Island (Pacific Ocean) and the British Indian Ocean. Entry is contingent on government permits and approvals and two previous attempts to visit have failed, but he is very optimistic about getting there.
Once he completes his most excellent adventure, Abbamonte plans to write a book about his travels and develop his own syndicated TV travel show.
To read the entire interview with Lee Abbamonte, please visit ExpertFlyer's blog.
About Lee Abbamonte
Lee Abbamonte is the youngest person to visit every country in the world. He has visited all 193 UN member states and visited 307 total countries. He is one of the world's most-traveled people and documents his travel on http://www.LeeAbbamonte.com.
Lee is a travel writer, travel expert, travel television personality and global adventurer. He appears regularly on Fox News Channel in the United States and has appeared on the Travel Channel, NBC, ABC, CBS, CNN, BBC, ESPN and many others around the globe.
Lee is a regular contributor to Conde Nast Traveler and Huffington Post and has been featured in the New York Times, Washington Post, Washingtonian, Bloomberg, Discovery, Smart Money, Slate, OK! Magazine, radio programs around the world and many others. Lee has worked with some of the world's most recognized and respected brands including American Express, Marriott, Starwood and Singapore Airlines and attends and speaks at some of the world's foremost travel conferences.
Follow Lee on Twitter at @LeeAbbamonte and Facebook at http://www.Facebook.com/LeeAbbamonte
About ExpertFlyer.com
Each month, ExpertFlyer's One-on-One blog goes face-to-face with the travel industry's leading decision makers to discuss and address topics relevant to many of today's business and frequent travelers.
ExpertFlyer.com was conceived and created by an eclectic team consisting of a veteran elite tier frequent flyer, an airline captain and corporate travel manager, and information technology professionals to deliver a 24/7 real time powerful air travel information service. The company provides its subscribers and corporate travel managers alike with a complete, concise and efficient way to access the ever-changing details of worldwide air travel information. For more information, please visit expertflyer.com.
# # #