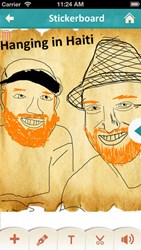 (PRWEB) September 23, 2013
Stickers, best known for being placed on your papers in elementary school, are about to become a mobile phenomenon with the release of a brand new application, The Sticker App. This mobile app provides consumers an outlet to create, share, and pin sticker masterpieces. It is available for free on the iTunes App Store.
The Sticker App was inspired by the drive to create, express, and share. This idea is what motivated the three features that make up the application. The first feature is the creation portion. The user is able to create custom stickers by combining pre-loaded images and text. By allowing users to come up with custom stickers, it enables them to express their ideas and views. Also, as the sticker is saved, it is added to virtual sticker boards where the images are shared with other sticker enthusiasts.
Jeff Ceresnie, the creator of The Sticker App, states, "Our smart devices are capable of so much, yet we are very limited in how we can express ourselves. I wanted to bridge that gap by giving users a simple, intuitive and powerful toolset to create virtually limitless possibilities."
Along with being a mobile sticker board, the application is also integrated with other social media tools. The Sticker App has been integrated with Facebook and Twitter to allow the user to share stickers with individuals who have not gotten the application. By combining other platforms with The Sticker App it allows designers to display their creations on other sites.
About the Creator
Jeff Ceresnie, creator of The Sticker App, is a 26-year-old innovator in the industry and headquartered in Neptune Beach, FL. With a background in media arts and videography, Ceresnie wanted to provide mobile app users a new creative outlet that could be accessed anywhere at any time.
About the Developer
Zco Corporation, founded in 1989 and headquartered in Nashua, NH, is one of the largest application developers in the world. Zco has experience creating custom mobile applications, enterprise applications, 3D animation, and augmented reality on numerous platforms including iOS, Android, Windows Phone, BlackBerry, Symbian, and HTML5. As an expert in the industry, Zco strives to be on the forefront of mobile application development and creating custom applications for its clients.