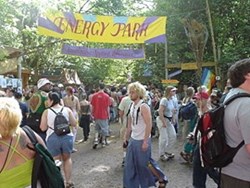 We're announcing these industry tips in advance of fall craft fairs to help businesses that rely on DIY label printing get a professional boost this season.
Denver, CO (PRWEB) September 24, 2013
Lightning Labels, custom label and sticker printing leader, is spreading the word about how do-it-yourself (DIY) label printing can help businesses and individuals market their products at craft fairs this fall.
Entrepreneurs and crafters who make food product, candle and soap labels and sell their goods at craft fairs know brand marketing is key to attracting consumers to their booths or stands. Packaging can be one of the strongest elements of an effective marketing strategy, and making DIY labels can be a cost-effective and fun way to embellish products.
"Businesses that create the design for their product packaging internally need to use the best materials and printing services to guarantee their labels and stickers turn out exactly as intended and attract shoppers at craft fairs and other venues," said Julie Mcculley, Lightning Labels Production Manager. "While DIY labels can be extremely effective, it's important to ensure they're made from a high-quality labeling base material. Lighting Labels offers businesses of all kinds the solutions they need to create attractive, bold labels, including digital printing services. That's why we're announcing these industry tips in advance of fall craft fairs to help businesses that rely on DIY label printing get a professional boost this season."
Matte Labels Offer a Sleek, Clean Finish for DIY Packaging Designs:
Whether they're selling health and beauty products, accessories for the home or food items, crafters have a variety of material options when it comes to creating DIY packaging, and matte labels are one of them.
These labels can be transparent, allowing the colors of products to be seen through its packaging. Additionally, matte laminates are ideal for crafters intending to write on their labels to mark item prices or for other reasons. Like all Lightning Labels solutions, matte labels can feature a variety of colors and images and can be printed on practically any shape.
Silver Labels Lend Products Sophisticated, Elegant Look:
Using silver labels is another option for businesses looking to catch the eyes of passerby at craft fairs. Their shiny surface commands attention and can resonate with shoppers looking for unique products. Combined with digital printing technology, silver label materials optimize the appearance of products to support businesses' marketing goals.
At fairs, festivals and similar events, crafters have to work extra hard to stand out from other vendors, especially ones that offer similar products. DIY label printing solutions add a professional look to goods of all kinds at an affordable price.
About Lightning Labels:
Lightning Labels uses state-of-the-art digital printing technology to provide affordable, full-color custom labels and custom stickers of all shapes and sizes, and now offers a full line of custom packaging products. From small orders for individuals, to the bulk needs of big businesses, Lightning Labels is equipped to handle and fulfill sticker, label and product packaging projects of all types. Best of all, like the name implies, Lightning Labels provides a quick turnaround to every customers' labeling and product packaging needs. Uses for Lightning Labels' custom product labels and custom stickers include food packaging and organic food labels, wine and beverage labels, bath and body labels, and nutraceutical products, such as vitamins, essentials oils, and herbal remedies, as well as event stickers, adhesive window stickers and more. Lightning Labels strongly supports the development of environmentally friendly printing materials and carries EarthFirst PLA, a new kind of green label material made from corn instead of petroleum. While operating as a high-tech printer, Lighting Labels prides itself on its personalized customer service. Lightning Labels provides one stop shopping for all of your label and product packaging needs. For more information and to place orders online, visit LightningLabels.com. For the latest in packaging news and labeling promotional offers, find Lightning Labels on Pinterest, Twitter (@LightningLabels), Facebook, Google+ and LinkedIn.