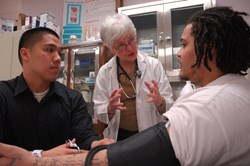 Paterson, New Jerse (PRWEB) September 30, 2013
Eva's Village (http://www.EvasVillage.org), a comprehensive New Jersey anti-poverty charity, opened a new primary medical and dental clinic in 2011 and is seeking volunteers to care for patients in need who are some of our most vulnerable populations – the uninsured and underinsured. Volunteer physicians, physician assistants, nurse practitioners, nurses, dentists, oral surgeons, dental hygienists and dental assistance are needed.
The new clinic provides a bright, welcoming atmosphere with private exam rooms to assist and care for the uninsured and underinsured. The primary goal for Eva's Village Healthcare is to provide integrated primary care, behavioral health and recovery support services as a Patient-Centered Chronic Care Medical Home for their clients ensuring that there is "No Wrong Door" access to services. The first step towards reaching this goal was to hire a clinic administrator. Jainene Diaz-Fasano joined the staff in 2012 and additional part-time staff, a medical assistant and a central processing technician, was added this fall.
The clinic is now equipped with four standalone medical exam rooms, two dental exam rooms, a testing lab, medical consulting area and staff workspace. The primary care medical and dental care clinic at Eva's Village handles over 3,000 patient visits/year, and the organization expects this number to grow in the upcoming year. The demand for primary care services have been increasing as the economy continues to recover slowly and there is uncertainty over the effectiveness of the new Affordable Care Act to meet the needs of the poor and uninsured. Eva's Village Healthcare would like to increase their clinic hours so they can care for more of the community [Paterson] in need. They want to attract more volunteer health professionals, serve more patients, and offer a wider range of services.
Eva's Village has been providing primary care medical services since 1994 and dental services since 2003. "Like many of our programs, we realized the demand for primary medical and dental care services was growing," state Marie Reger, executive director at Eva's Village. "We out grew our clinic space and needed to provide a more private setting for patient care. Now that we have hired additional administrative and support staff we need to increase our base of volunteer healthcare workers to meet this demand."
If you are a healthcare professional and would be interested in volunteering in the clinic at Eva's Village please reach out to Jennifer Doherty, Eva's Volunteer Coordinator, at Jennifer.Doherty@evasvillage.org or call 973.523.6220, ext. 248.
About Eva's Village:
Eva's Village (http://www.evasvillage.org), originally a New Jersey soup kitchen, was founded in 1982 by Msgr. Vincent E. Puma in response to the increasing incidence of homelessness in his Paterson, NJ parish. But Msgr. Puma soon realized that a soup kitchen was not enough. With the generous support of thousands of donors and private and government grants, Eva's has grown to be the most respected anti-poverty program in New Jersey. Their mission is to feed the hungry, shelter the homeless, treat the addicted and provide medical and dental care to the poor with respect for the human dignity of each individual.