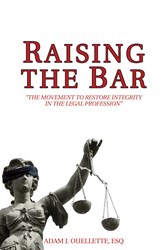 "How many TV shows, movies, books, and the like are out there about lawyers? Practicing attorneys know that our day to day lives are nowhere near in comparison to these fabricated. The law isn't exciting, fun-filled, or full of money and fame. "
Ft Lauderdale, FL (PRWEB) September 25, 2013
Job satisfaction in the legal world is at an all time low. Not only is the profession maligned in the public eye, but most lawyers really don't like their career choice. Why is this? One of the explanations, covered in the upcoming book "Raising the Bar", is that there is just too many in the profession. When the author, Adam J. Ouellette, Esq., looked at the stats, his jaw dropped. Too many people have joined the profession over the past twenty-five plus years. Compare the numbers to 1960 and there is almost five times more lawyers and the total population has yet to double in this country.
The soon to be released book provides lawyers with 10 Steps to assist the reader in realizing their ideal life in or out of the law. Topics such as creating the ideal team, ideal customers, meditation, life balance, and life purpose are covered in depth. The author believes there are tens of thousands of lawyers who have a life purpose outside the law. The more lawyers that find their true purpose in life, the better off the profession, society and the soon to be ex-lawyer will be.
For more information on the book see the website:
http://www.raisingthebarbook.com
For more information on the author's law practice:
http://www.mybrowardlaw.com