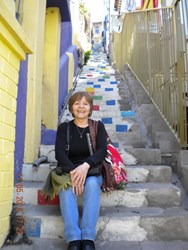 Women played a crucial part in all aspects of the resistance, including the armed resistance.
(PRWEB UK) 23 September 2013
The role of women before, during and after the brutal dictatorship of Augusto Pinochet will be discussed at an event on Saturday 28 September at Birkbeck, University of London.
The conference, called Chilean women: 40 years on, is being held to mark the fortieth anniversary of the overthrow of Salvador Allende's government.
Gloria Miqueles – a Chilean now living in London – will speak about her involvement in the resistance movement, including her work on the underground magazine 'Rebelion.' A student at the time of the coup on 11 September 1973, Miqueles was imprisoned and tortured by the regime for her activities.
She said: "Women played a crucial part in all aspects of the resistance, including the armed resistance. They were the first to take to the streets and helped each other survive during Pinochet's bloody and unspeakable regime. I will talk about my experiences and how many of Chile's problems today still date back to that time."
Miqueles, a bioinformatics specialist working for NHS Blood and Transplant, will be returning to familiar territory when she delivers her presentation at Birkbeck as she completed her part-time MSc in Development Studies at Birkbeck in 2005.
Other presentations at the conference will focus on women in Allende's government, Chilean women writers in the UK, and what women want from the next Chilean president.
Speakers at the event include:
Dr Jasmine Gideon, Lecturer in Development Studies, Birkbeck
Professor Maxine Molyneux, Director, Institute of the Americas, University College London
Elizabeth Dore, Professor Emeritus of Latin American Studies, University of Southampton, and Associate Fellow, Institute of the Americas, University College London
Nina Lopez, Global Women's Strike
Dr Gideon said: "My own research with Chilean exiles suggests that women's experiences under the military regime and of living in exile continue to have an impact on their health and well-being. Understanding the consequences of this is important, not only for the women involved, but in terms of contributing to wider debates around health and migration that are so current in the UK today. This workshop will offer a chance to reflect on how the events of 1973 continue to influence our world today."
Chilean Women: 40 years on is a free conference taking place in Room B04 at Birkbeck's School of Arts, 43 Gordon Square, London, WC1H 0PD from 10:30-17:00 on Saturday 28 September.
There is no need to register.
Notes to editors

To interview Gloria Miqueles, please contact Guy Collender (g(dot)collender(at)bbk(dot)ac(dot)uk).
Birkbeck is a world-class research and teaching institution, a vibrant centre of academic excellence and London's only specialist provider of evening higher education.
Birkbeck is ranked among the top one per cent of universities in the world in the Times Higher Education World University Rankings 2012.
Birkbeck has consistently ranked number one in the National Student Survey, and this year topped the poll for student satisfaction and teaching in London.
18,000 students study at Birkbeck every year. They join a community that is as diverse and cosmopolitan as London's population.
For more information about Birkbeck contact Guy Collender at 0207 380 3108, g(dot)collender(at)bbk(dot)ac(dot)uk or visit http://www.bbk.ac.uk.