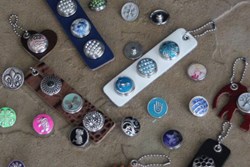 I am a firm believer that everything happens for a reason, and this is no exception.
Spring, TX (PRWEB) September 24, 2013
The founder of a jewelry and accessory company is convinced now more than ever of divine intervention. When Emalie Eaton was searching for a name for her new collection, Maya Grace kept cropping up among all of the other names being considered. A quick Google search brought her to the story of Maya Grace, a 3 year old girl that passed away from cancer. "Her story moved me to tears," says Emalie. "I am a firm believer that everything happens for a reason, and this is no exception." The company was named Mya Grace as a tribute to that young girl. It is spelled a bit differently, without the 'a'. Emalie says it reminds her daily the missing 'a' stands for an Angel that is missing from Earth.
Mya Grace donates at least 5% of their gross sales to help fund children's cancer research. "As the mother of two young children, the thought of one of them having a disease that could go undetected as Maya's did frightens me immensely," says Emalie, "I had to do something. If we can donate more than 5% we do, but that is my baseline and we just have to make it work without that 5%." In addition to monetary donations, the company has plans for many other projects in and around the community to spread awareness.
About Mya Grace Jewelry & Accessories
Mya Grace is a startup company based out of Spring, TX, a suburb north of Houston. The collection consists of interchangeable snap jewelry that lets you change their look to fit your fashion or mood in a snap. This collection features necklaces, earrings, rings, bracelets, and key chains that can be embellished with colorful snaps featuring beautiful embossed detail, enamel and crystals. Their products are carried in both online and brick and mortar boutiques. Visit their website at http://www.myagrace.com.