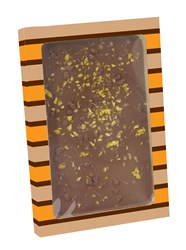 Hancocks has exclusively developed a new range of creative chocolate bars to satisfy customers looking for a unique festive chocolate treat.
(PRWEB UK) 24 September 2013
In recent years consumers have been looking for more creative and interesting chocolate bars from the usual selection on offer. Following an increase in demand for bigger sharing bars and new exciting combinations, chocolate giant Cadbury created a couple of innovative Cadbury Dairy Milk bars containing other enticing confectionery treats; Cadbury Dairy Milk with Oreo, Cadbury Dairy Milk with Daim and Cadbury Dairy Milk with Crunchie. Cadbury then went on to make its innovative range of Marvellous Creations; these chocolate bars included Cadbury Dairy Milk with Cola Pretzel Honeycomb, Cadbury Dairy Milk with Jelly Popping Candy Shells and Cookie Nut Crunch. These highly unusual chocolates are proving to be a huge hit amongst consumers looking for a fun and delicious alternative to their usual chocolate repertoire.
With Cadbury's exciting new bars proving to be successful, Hancocks saw a gap in the market for a new and innovative confectionery range which mixed chocolate with the nation's favourite pick and mix sweets.
Sweet Shop Choc's will appeal to both adults and children with its Willy Wonka style quirky combinations. The six varieties of these unique bars are Milk & White Chocolate with Cola Bottles, Milk Chocolate with Strawberry Hearts, White Chocolate with Fizzy Bubble Bottles, Milk Chocolate with Fried Eggs, White Chocolate with Mini Chocolate Beans and Milk Chocolate with Mini Mallows. Since their release at the end of July these delightful bars have proved to be a huge success as they offer consumers the best of both worlds; sweets and chocolate combined in one!
Hancocks has also exclusively developed a new range of creative chocolate bars to satisfy customers looking for a unique festive chocolate treat. As Christmas approaches, shoppers are looking for something different to the norm and Hancocks' five 200g Chocolate Blocks are attention grabbing with their open fronted boxes which draw the customers in with delicious treats revealed inside. Rocky Road, Honeycomb, Fruit & Nut, Triple Choc and Strawberry White Choc are the five tasty flavours that shoppers can choose from. With a recommended retail price of £2.49, these great value scrumptious chocolate bars make ideal gifts for family, friends, teachers and work colleagues over the festive season.
It's certainly likely that these latest innovations will prove to be a long-term success, given the nation's love of block chocolate bars. According to Mintel, in 2012 94% of consumers bought chocolate confectionery and 95% ate it; Britain's love of chocolate is undisputable. Alex Beckett, Senior Food Analyst, adds, using more unusual flavour combinations in bars may appeal to the 28% of users who are willing to experiment and try chocolate with exciting and interesting new flavours.
Jonathan Summerley, Hancocks Purchasing Director, explains why he feels Hancocks' new chocolate creations are proving so popular. "We all expect to see the usual flavours of chocolate on the shelf but will look twice when we see something different. Our Sweet Shop Choc's bars, priced at £1.49, are and affordable bit of fun, capturing the nation's love of both chocolate and pick & mix sweets. Our 200g Chocolate Blocks make a novel gift at £2.49. They are visually fun and don't break the bank; these are the types of products that consumers enjoy to treat themselves and others with".
Established in 1962, Hancocks is now the biggest confectionery wholesaler in the UK with 20 nationwide cash and carries and an online wholesale sweet shop. Its extensive confectionery range includes branded chocolate and sweets, wholesale pick and mix sweets, own label confectionery and seasonal confectionery.
Visit http://www.hancocks.co.uk or a local Hancocks cash and carry depot to see their full range of innovative new chocolate bars including Sweet Shop Choc's and 200g Chocolate Blocks.