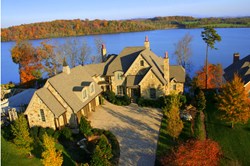 Best Eastern Tennessee Lake Communities
Knoxville, TN (PRWEB) September 23, 2013
As Baby Boomers prepare for next chapter of their lives, their home becomes a castle, sanctuary and ultimate getaway after a job well done throughout their career. The home validates the fruit of their labor and welcomes friends and family to enjoy this new phase of their lives. The home builders at Rarity Bay understand this and welcome Baby Boomers to take a peek at what they have to offer during the first three weekends in October.
Visitors can tour an Arts & Crafts-style 2,600 square foot 3 bedroom 2 bath upscale villa at Rarity Bay on Greenfinch Drive and drive by six homes under construction at Rarity showcasing the newest trends in the homebuilding industry during a local showcase of new homes in the Knoxville area.
Located in Vonore, Tennessee is the gorgeous lakefront gated golf community named Rarity Bay. This neighborhood offers waterfront properties on Tellico Lake with optional Rarity Bay boat slips along with country club amenities. Property owners have access to golf, boating and equestrian activities, scenic nature trails and are only a short 30 minute drive to Knoxville Tennessee. Loudon real estate developments have been booming for over a decade in Eastern Tennessee and local home builders are showing off new innovations and designs at Rarity Bay. Here's a few of Rarity Bay's home builders:
GREYSTONE CONSTRUCTION - Founder Denny Smith is the face of Greystone Construction. As one of the lead home builders at Rarity Bay, Greystone Construction offer specialized design and construction of homes on rural and lakefront properties. With a down to earth mentality and a keen eye for construction, Greystone Construction is an ideal home builder for those who want a professional available for every phase of development.
PROVIDENCE BUILDERS - These home builders pride themselves on luxury and capturing the vision of their clients. From utilizing new energy sources to design around clients' Rarity Bay boat slips, Providence Builders are available for their clients and provide top quality construction.
PRECISION BUILDERS - One of the elite designers and construction teams for Loudon real estate developments, Precision Builders is making a name in the Rarity Bay community as a certified Energy Star builder. The company is dedicated to maintaining integrity and commitment with its clients. The company provides homebuilding and renovation services since 1974.
Rarity Bay approves all three of these homebuilders and includes certified Energy Star green builders like Precision Builders. The Energy Star program endorses certified home builders and promotes energy efficient and sustainable homes. Through the program, home builders and clients can work together to develop new energy sources like solar panels and LED lights and offers Green appliances to home builders and their clients. Energy Star home builders have access to the newest products like programmable thermostats, geothermal heat pumps and much more to help create environmental friendly living spaces.
For those looking to maximize their Tellico Lake lakefront views to spend more time outdoors, home builders and designers can build upwards or add levels of cable railings to the exterior of the home. Baby Boomers can choose new ways to utilize their space, save energy plus convenience of their Rarity Bay boat slips without the hassle of driving to a marina.
With amenities in place, the community of Rarity Bay is a dream already. The first three weekends in October are a great opportunity to explore this lakefront neighborhood and see the home options available.
About Real Estate Scorecard:
Real Estate Scorecard writes unbiased real estate reviews providing in-depth information about popular gated communities in Florida, Georgia, North Carolina, South Carolina and Tennessee, all in an effort to help people discover where to retire in the Southeast.
Website: http://realestatescorecard.com