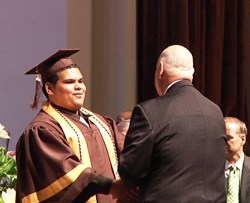 'Don't give up. Life isn't easy, but it can become easier if you try to make it easier,' Carlos Anavitate said.
Hershey, PA (PRWEB) September 24, 2013
Carlos Anavitate had a challenging road before entering Milton Hershey School at age 15. His family moved from home to home, and it was when they were living at Water Street Ministries, a homeless shelter in Lancaster, Pa, that Carlos attended an informational session offered by MHS.
Carlos asked his grandmother if he could apply.
"She knew it was going to be hard. I knew it was gonna be hard, but I knew it was going to give me a better chance," Carlos said.
Fast forward a year later and Carlos was a striving MHS student participating in several extra-curricular activities including football, wrestling, and the school ambassador program.
MHS Admissions Counselor Stacey Spangenburg still recalls meeting Carlos at that informational session.
"From the moment I met Carlos I knew he was going to be a successful Milton Hershey School student," Stacey said.
And Stacey was right. Carlos graduated in the class of 2013 and is now studying at The Pennsylvania College of Technology in Williamsport. His dream job would be to do something in the field of architecture. He is grateful he was able to gain technical skills at MHS through engineering and design-focused classes in the School's Career/Technology Education program.
MHS Career/Technology Education is designed to prepare each student for further education, the world of work, and personal excellence. There are 11 different concentrations offered and up to 35 state and nationally recognized certifications that students can earn.
Carlos realizes the certifications he gained gave him a jump start in college –an opportunity he didn't think would be possible without MHS.
Carlos said he would do it all over again and encourages others in similar situations to consider Milton Hershey School as an option.
"Don't give up. Life isn't easy, but it can become easier if you try to make it easier," Carlos said.
ABOUT MILTON HERSHEY SCHOOL
Milton Hershey School is a cost-free, private, coeducational home and school for children from families of low income, limited resources, and social need. The School is funded by a trust established by Milton S. Hershey and his wife Catherine. Milton Hershey School offers a positive, structured home life year-round and an excellent pre-kindergarten through 12th-grade education. Our vision focuses on building character and providing children with the skills necessary to be successful in all aspects of life. Go to http://www.mhskids.org to learn more.