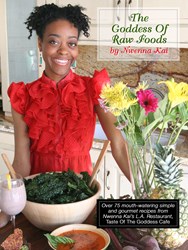 My skin is more vibrant, belly bloat is minimized, and I actually have sleepers in my eyes when I wake up which means deep sleep for me. - Wendy Zalles Valley Forge, PA
Philadelphia, PA (PRWEB) September 24, 2013
Raw foods expert and author of "The Goddess of Raw Foods" Nwenna Kai is teaching a global online course entitled Cleansing and Detoxing with Raw Foods that introduces participants to her world-renowned course, The 7 Day Raw Foods Cleanse TM.
The benefits of a raw foods cleanse are countless. Besides weight loss, people who experience The 7 Day Raw Foods Cleanse TM will enjoy increased energy, clearer skin, reduced stress, and complete mental clarity. In this class, students will be learning why cleansing is so important for their health, the importance of juicing, the 7 energizing superfoods, and the 7 cleansing principles that will restore and enhance one's life. A raw foods cleanse is most definitely healing beyond medicine. Such a lifestyle can transform disease into complete health. Nwenna Kai has changed the lives of thousands of individuals by introducing this new form of cleansing to them. Through the information given out in this teleclass, individuals will be able to cleanse their bodies and start fresh for the new fall season.
About Nwenna Kai
Nwenna Kai is an award-winning and world-renowned wellness entrepreneur, author, and raw foods expert. Nwenna is the creator and founder of Taste of the Goddess Café in Los Angeles, and author of the book "The Goddess of Raw Foods." Over the years, she has aided in helping thousands lose weight and live healthier lifestyles with her LiveWell Movement. Nwenna is also the creator of The 7 Day Raw Foods Cleanse TM and continues to spread health and happiness across the globe. In addition, she has appeared on many networks promoting her movement, including E-Entertainment, The Travel Channel, The Philadelphia Tribune, Self Magazine, Heart & Soul Magazine, NBC's The Ten Show, & Purely Delicious Magazine.