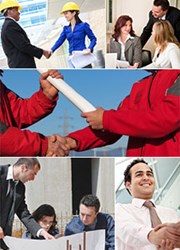 I feel very confident that we will be able to fill all positions thanks to Construction Connection.
Atlanta, GA (PRWEB) September 24, 2013
National Custom, Inc., a Georgia-based general contracting company with projects underway across the US, sees opportunity on the horizon as the construction industry finally recovers from major setbacks in 2008. With the help of ConstructionConnection.com, the leading industry-specific hiring and networking community, National Custom can now prepare for future growth and find talented individuals nationwide who meet their specific criteria.
After five years of high unemployment rates and stagnant demand for new building projects, the commercial and residential construction sectors are finally growing again. Experts predict the industry will grow by an impressive 3.6% in the next year, which is faster than any other industry. Now, construction companies that have not been able to bring on new staff for years are ready to hire again to meet new demand.
"At National Custom, we work on building great relationship with our clients and most of our projects come from referrals," explains Alan Wyatt, Director of Business Development at National Custom, Inc. "But when you get busy, you need a team of really great people who you can trust and depend on to represent your company and put out quality work. We usually ask our employees if they know anyone, but with so many new projects I thought there has to be a better way."
Though it is common in the construction industry to rely on word-of-mouth recommendations for new staff, National Custom has projects ongoing across the US and needs a more stable staffing solution. Before they are able to take on new projects, they have to know that there is a pool of trustworthy, skilled individuals available to hire. This is how Wyatt came to Construction Connection. After becoming frustrated with general job posting sites, Wyatt registered National Custom, Inc. as a Construction Connection company member and filled out the detailed job posting form on the site.
"The job posting was extremely detailed; I was really impressed. Obviously a lot of thought went into creating this site," says Wyatt. "I hadn't even posted the job yet when I got an email from Kent [Leighton]. After talking to him and learning about his background in construction, I admire what they're doing even more."
Leighton and co-founder of Construction Connection Suzanne Breistol work closely with the site's members to make sure they have a positive experience and can find whatever resources they need. In Wyatt's case, Leighton wanted to make sure he found applicants who met his specific requirements.
"I've been really impressed with the quality of people [on the site]. I've had some very good conversations with people and most of the candidates were a near perfect fit, which was kind of surprising." This surprise is not uncommon as many skilled construction professional had to leave the industry after 2008 to find jobs elsewhere. Now that there are more jobs available, some have returned to construction. "We're in a growth mode, so I've been using the site to develop relationships with quality people, trying to find out what kind of talent is available and what's on the horizon. Before we can take on new projects, we have to know that we have good quality people to work on all of these projects. When a great opportunity does come up, I feel very confident that we will be able to fill all positions thanks to Construction Connection."
In addition to the patent-pending job-matching tool on ConstructionConnection.com, the site also boasts a wealth of resources for construction industry professionals. The site features an educational blog, toolbox talks, financial and administrative tools. The Construction Connection partners collaborate to contribute informative articles on the latest news in their industries, as well. The partners are industry leaders in their respective fields, which include engineering, architecture, wage benefit plans, business consulting, software solutions and more.
"I really enjoy all of the articles, too, because they are topical, timely and they are very encouraging. Our industry really got hammered by the recession, but Kent [Leighton] has a positive outlook. To have one voice out there picking up spirits instead of complaining is amazing. He's actually out there doing something to help the industry and to make sure people know there are opportunities out there."
About Construction Connection
ConstructionConnection.com was created out of a need for a more effective and streamlined way for construction industry professionals to get matched with the right industry jobs and with the right industry opportunities. The founders of Construction Connection, both industry professionals themselves, listened to both company and individuals' dissatisfaction with the traditional job boards, the paid resume blasts, the overpriced resume services and overall lack of sympathy toward the individual candidate. They also listened to the dissatisfaction from companies who post jobs only to get many irrelevant results or have to purchase high priced ads to showcase their company. Construction Connection is a patent-pending, one-of-a- kind profile creating / match-making system. The system delivers effective results. Construction Connection saves time, money and aggravation by matching people to people, people to companies, companies to people, and company to company.