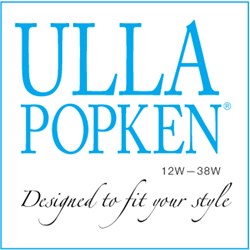 Ulla Popken footwear collection includes career looks, dressy pumps and sling backs, evening sandals, slides, loafers, clogs, shooties, and boots in tall and ankle-height styles.
Glen Arm, MD (PRWEB) September 24, 2013
Ulla Popken, a multi-channel retailer well-known for its collection of unique, fashionable plus size women's apparel, has expanded its online Shoe Boutique with an additional assortment of stylish contemporary footwear for plus size women and others wearing shoe sizes extending from 5 to 13, and widths from Narrow (N/AA) to Extra Wide/Wide Wide (EW/EE). These ranges are well beyond the standard offering of sizes 6 to 10 Medium (M/B) found at the majority of competitors.
While other companies may offer a few token traditional comfort styles for plus size women and other customers not wearing a popular size, the Ulla Popken footwear collection includes career looks, dressy pumps and sling backs, evening sandals, slides, loafers, clogs, shooties, and boots in tall and ankle-height styles. Virtually every category is included, and styles come in a variety of colors and textures, with contemporary and feminine details. Ulla Popken makes it easy for plus size women and other hard-to-fit shoe and boot shoppers to purchase attractive footwear that will make it possible to wear a stylish ensemble that continues right down to their toes.
Diane Cantor, Vice President of Merchandising and Inventory, and Joseph Napolitano, Footwear Buyer, both emphasized the growing quantity of styles coming online in the collection. Just in time for the fall season, a large number of new offerings were added, and more are planned in the very near future. The idea is to offer the plus size woman a constantly changing collection of shoes and boots that suits her wardrobe and lifestyle needs.
The initial brands forming the basis of the collection are Easy Street, which includes classic and contemporary looks in all footwear categories from evening shoes to slip-ons, pumps and boots, J. Renee, which brings a dressier, more sophisticated flavor to the mix, and Bella-Vita, for casuals, dressy styles and boots with a touch of Continental sensibility. More brands are waiting in the wings, and will be debuted shortly.
The plus size woman will find that the generous offering of boots and shoes in the new Ulla Popken Shoe Boutique provides comfort and support as well as good looks. Too often, women must sacrifice comfort and foot health for extreme fashion styles that are frequently painful to wear and hazardous to walk in. The many items in the Shoe Boutique prove that it is possible to combine comfort with fashionable styling; they are great-looking but still offer padded insoles and flexible walking outsoles, and the boots offer wide calves or stretch features to fit a fuller leg.
Ulla Popken's footwear collection contains a large number of brand-name choices covering a full range of extended shoe sizes and wide widths, with more to come, and is focused on satisfying the desire of the plus size woman for attractive footwear that is every bit as fashionable and appealing as that worn by others. This underserved segment of the footwear market, women wearing shoes in sizes from 5 to 12 and even 13, in widths from Narrow to Extra Wide, now has a new and exciting option for all of her footwear needs.
About Ulla Popken:
http://www.UllaPopken.com is a plus size women's clothing retailer selling sizes 12W-38W. Initially a German retailer with more than 320 stores in Europe, Ulla Popken founded its US headquarters in Glen Arm, Maryland in 1993 and serves customers through catalog and eCommerce.