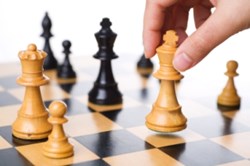 Small problems eventually turn into big ones, costing districts hundreds of thousands of dollars they just don't have.
Castle Rock, CO (PRWEB) September 26, 2013
Strategic Resources West announced the launch of a new Facility Efficiency and Utilization Audit, providing school districts with a fast, affordable way to gain necessary data to make accurate decisions for the current school year and beyond.
With budget cuts making headlines for years, school districts are looking for ways to maximize their budgets and make decisions that will positively impact students today and in future generations. The audit provides an independent team of experts to gather relevant data quickly and affordably. The data may then be used to make accurate decisions about how to best utilize existing facilities and plan for new ones. Implementing such a strategy can help stretch dollars further.
School districts reap the following benefits with the audit:

An independent, objective overview of the district's unique situation
Recommendations for actions that will save the district money
Data and recommendations in a few short weeks
An affordable way to gain data for accurate decision-making
"School districts face a myriad of challenges with limited resources," commented Denny Hill, Director and Schoolonomist™ for Strategic Resources West. "Small problems eventually turn into big ones, costing districts hundreds of thousands of dollars they just don't have. This leads to less effective staff, unhappy communities, and struggling schools."
Strategic Resources West has worked with numerous districts to help them better understand next steps with regard to aging facilities, capacity imbalances, demographic issues and enrollment changes.
The audit is available on a sliding scale depending on the size and needs of the district. For more information, contact Strategic Resources West at 303-688-7963 or visit http://www.strategicwest.com.
About Strategic Resources West, Inc.
Strategic Resources West (SRW) is a K-12 strategic planning consultancy steeped in more than 30 years of experience with school districts, municipalities and other public entities. The SRW approach is based on a process that is both flexible and focused, enabling school districts to successfully navigate the changes that are inherent in school planning, and providing an unbiased third-party voice that assists in the creation, design, or redevelopment of facilities to suit the ever-evolving needs of students and communities. The company is headquartered in Castle Rock, Colorado.