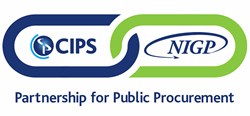 "The portal and the Profiler resources we have co-developed reflect the strength and value of this global partnership..." - Rick Grimm, NIGP, CEO
(PRWEB) September 23, 2013
The Chartered Institute of Purchasing and Supply (CIPS) and the National Institute of Government Purchasing (NIGP) have launched a new dedicated web portal in support of their Partnership for Public Procurement – http://www.globalpublicprocurement.org.
The new portal offers global access to best practice procurement and professionalism to public sector groups all over the world. Bringing together the suite of Values and Guiding Principles already developed by the partnership, the portal showcases the new Public Procurement Profiler – a progressive online evaluation to help agencies understand and increase the strategic effectiveness of their purchasing function. The Profiler is offered in two distinct versions: Profiler-Essentials, a free, brief evaluation that highlights an agency's tendency toward structured versus unstructured practice; and the detailed Profiler-Self Assessment that identifies the agency's procurement model and consequences of that model, and suggests a customized pathway to greater agency effectiveness.
Also available on the portal is the full suite of Values and Guiding Principles (VGPs) which offer formalised reference-able values and guiding principles in key areas of public sector procurement practice. The Values and Guiding Principles provide organisations the foundation upon which to establish their professional identity and their professional practice. Over 80 public sector agencies have formally adopted or endorsed the Values and Guiding Principles of Public Procurement.
Also available on the site are nearly 20 procurement practice documents offering guidance on key procurement practice areas. This number will be expanded over time.
David Noble, CIPS CEO, said: "Since launching our partnership with NIGP in 2011, we have gone from strength to strength and this new portal underpins our on-going commitment to helping develop public procurement communities across the globe. With public procurement, there is no one size fits all which is why we have devised a portal to help support all levels of procurement maturity across global governments."
Rick Grimm, NIGP CEO, observed "The portal and the Profiler resources we have co-developed reflect the strength and value of this global partnership. The Profiler suite is an empowering, practical pathway agencies can use to guide them toward greater procurement effectiveness that translates to greater support and services for their communities."
The CIPS/NIGP partnership fully supports organisations seeking to achieve world-class procurement through process excellence and people development.
ENDS
Notes to editors
The Chartered Institute of Purchasing & Supply (CIPS)
The Chartered Institute of Purchasing & Supply (CIPS) is the world's largest procurement and supply professional organisation. It is the worldwide centre of excellence on purchasing and supply management issues. CIPS has a global community of over 100,000 in 150 different countries, including senior business people, high-ranking civil servants and leading academics. The activities of purchasing and supply chain professionals have a major impact on the profitability and efficiency of all types of organisation and CIPS offers corporate solutions packages to improve business profitability.
NIGP
Since 1944, NIGP has been developing, supporting and promoting public procurement practitioners through premier educational and research programs, technical services and advocacy initiatives. With over 2,400 member agencies representing over 15,000 professionals across the United States, Canada and countries outside of North America, the Institute is international in its reach. Our goal is simple: recognition and esteem for the government procurement profession and its dedicated practitioners.
For CIPS: Liz Lees, head of PR, CIPS, at liz.lees(at)cips(dot)org on 01780 761576, Trudy Salandiak, Public Relations Manager, CIPS, at trudy.salandiak(at)cips(dot)org on +44 (0) 1780 761575/07917 64856
For NIGP: Brent Maas, Executive Director, Business Strategy, NIGP, at bmaas(at)nigp(dot)org on 703-736-8900 x229