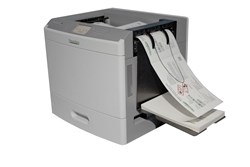 Houston, TX (PRWEB) September 25, 2013
Neuralog, LP proudly announces the release of the new NeuraLabel 500e chemical drum label printer. This second generation GHS-compliant, high-speed, full-color, continuous-form drum label printer delivers on quality, versatility, speed, and low cost of ownership.
The NeuraLabel 500e prints drum labels up to 48 inches in length at speeds of up to 50 pages per minute. Pantone color calibration optimizes color quality and color matching to ensure adherence to GHS requirements, with print resolutions of up to 1200 dpi. With support for fan-fold, roll-to-roll, and cut-sheet label stock, the NeuraLabel 500e is a flexible and reliable drum label printing solution. Using blank label stock eliminates or reduces the need to maintain an inventory of pre-printed labels. Using compatible label media, including polyester and vinyl, the NeuraLabel 500e prints GHS-compliant labels that stand up to stringent BS5609 requirements for saltwater immersion, abrasion, and UV exposure.
The NeuraLabel 500e automatically aligns, feeds, and cuts label jobs, while the output is neatly folded onto the integrated stacker or re-wound onto a take-up roller, all with minimal user intervention. A 4.3-inch color touch screen with audible confirmation feedback makes operation simple and intuitive. The operator panel is conveniently accessible through an embedded web server for remote configuration and monitoring. With easy front panel access to the toner cartridges, routine maintenance is a breeze. The extra-high-yield cartridges deliver up to 20,000 pages, ensuring prolonged productivity between replacements, reducing downtime and costs.
Whether transitioning to the GHS-aligned and revised OSHA HCS standards or looking for a reliable and durable high-volume label printing solution, the NeuraLabel 500e is the answer. NeuraLabel 500e works seamlessly with all major label authoring software, and Neuralog offers expertise in SAP/GLM/WWI, Atrion LPI, LoftwareLabelManager, Codesoft, and BarTender. The NeuraLabel 500e is backed by a full onsite warranty managed by a knowledgeable and experienced sales and support team.
To learn more about the NeuraLabel 500e printer, visit http://www.drumlabelprinter.com or call 1-281-240-2525.
About Neuralog
Since 1991, Neuralog has been a software and hardware provider for the oil and gas industry. There are thousands of people using Neuralog products in over 70 countries.
Contact: Shawn Abrams
Phone: 1-281-240-2525
Email: sabrams(at)neuralog(dot)com