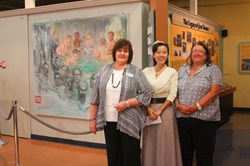 Youxin Yang's message is peace and she pursues her vision with a passion that is evident and worthy of a closer look.
Cambridge, MA (PRWEB) September 25, 2013
On September 5th, 2013 The American Art Awards announced via their media outlet, Highlight Hollywood, that Ms. Yang won the 2013 Stoney Award prize for most overall wins by one artist. That is over a dozen awards recognized by the AAA, including placing in the competitive Oil- Human Figure category and dominating with four separate wins in the Pastel category. This news comes after Youxin Yang's recent work won recognition in two separate national museum juried art competitions. 'Peace- I' was recently chosen by The Highland Museum & Discovery Center in Ashland, Kentucky for inclusion in its "National Juried Art Show". The opening reception took place on September 5th, 2013 and that night 'Peace- I' won the 2nd place award in the Water Media category. 'Peace- II' has won the "People, Faces and Figures" Exhibition Honorable Mention Award from The Leading Artists Online Gallery earlier this year. 'Peace- III' has been chosen for inclusion in the "26th Annual September Competition Exhibition" by The Alexandria Museum of Art, in Alexandria, Louisiana, which will be on display until November. Youxin Yang's message is peace and she pursues her vision with a passion that is evident and worthy of a closer look.
Yet these recent events are arising out a year full of non-committal responses from galleries and museums following an invited solo Peace show in April of 2012 at The Dr. Sun Yat-Sen Classical Chinese Garden in Vancouver, Canada. Youxin Yang's work has faced repeated rejection from local and national art galleries for containing controversial subject matter that doesn't have commercial appeal, which is unfortunately how art is often valued. Ms. Yang's recent 'Peace' series of paintings weave a complex and nuanced narrative of the beauty and pain that encompasses the human story. Emotions are triggered and remain visceral and real throughout her series. Themes seem to orient themselves around three subgroups: peace in the human realm, peace between humans and animals and peace in the animal realm. Although, at times, allegorical and overly sentimental, Ms. Yang's work, nevertheless, exudes a timely poignancy that makes it relevant in the contemporary art scene.
'Peace- I' (2012) is first in the series. The eye is drawn immediately to the colorful and light-filled upper right of the canvas where seven babies are at play in an ethereal void of cream, beige, grey and turquoise colors. We are looking at the future and from whence it will launch, this is when we notice the shadowed past. One offensive and one defensive row of portraits depict world leaders, past and present. Pictured are Adolf Hitler, Emperor Hirohito, Joseph Stalin, and Osama bin Laden; the seeming defensive row depicting Winston Churchill, Mao Zedong, George W. Bush, and Barack Obama. These comprise the platform and tableau of the painting. One of the messages seems to be that it is the job of leaders to protect the innocent, to stand between purity and oppression. We are reminded that every hero and tyrant was once a child, simple and full of curiosity. Any one of those children surrounded by the pure light of possibility might grow up to advance humanity forward, or back, on its winding journey. The word "PEACE" floats upward like a trail of hope near the bottom of the composition.
'Peace- II' (2012) is a sweet scene of innocence. An infant child and a baby panda bear interact with mutual wonder and respect. The child bears a bunch of bamboo, presumably for the panda to enjoy, and some red cherries for itself. The scene is like a wish, a pure joy.
'Peace- III' (2012) is similar in feeling to the previous painting, but omits the human element this time. A panda family enjoys some food under a canopy of lush greenery. The bears are quiet, undisturbed, fully absorbed in their serene world and one another. The technique is more wild, unrestrained, the strokes evoke a feral energy on the canvas mirroring the naturalistic elements of humanity's link to the animal kingdom.
'Peace- IV' (2013) introduces blatant phraseology to the framework of the more obvious visual story. Portraits of Mahatma Gandhi and Hillary Clinton are surrounded by a tattoo of inspirational thoughts and prayers; one reads, "mutual revenge can only result in endless violence". The portraits are joyful, smiling; the message here is definitely laudatory.
'Peace- V' (2013) is an exercise in symbolic human/animal equality. A father with a happy child on his shoulders is juxtaposed with a mirrored reflection depicted, again, with panda bears. It's simple and pure artwork, if naïve and idealistic. The technique is loose and abstract and the emotional aspect of inward contentment and serenity is evident. The latest painting in this series is Ms. Yang's 'Peace- VI' (2013); this painting is a somber and terse meditation on the topic of the 2013 Boston Marathon bombing incident. We see a smoke-filled landscape of Boylston Street and a grouping of smiling portraits of the young casualties from the attack: Lü Lingzi, Martin William Richard and Krystle Marie Campbell. Dominating the composition is a message in large, black letters which reads, "Terror, terrorist, whichever evil, Do you have to validate your existence by destroying the lives of innocent people who have never, ever hurt you?". This is a plea for understanding, Youxin Yang clearly feels what many other people did and continue to feel in the face of seemingly senseless violence: anger, sadness, loss. The emotions deviate from her usual calm scenes to the flat grey depression evidenced here. The viewer is confronted by something for which there is no celebration. There is no joy in this painting, no redeeming ray of hope but one: Ms. Yang's customary signature for this series, a red, all capitalized word, "PEACE" outlined in red next to her name.
The series is still in progress, the topics are presented, highlighted and reiterated: compassion, love, equality, peace. The human narrative is alive in Youxin Yang's 'Peace' series and continues to radiate the light of its message: If every person could give voice, even a tiny voice, to the words etched on Peace- IV: "pacify the world through you, me and ourselves", the goal of world peace would not be far off.
For more information, please visit The Zeitgeist Gallery.