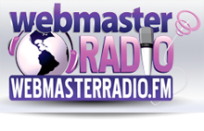 We are humbled by this acknowledgement by our peers and by all means we will strive to continue delivering award-winning content
Boca Raton, Florida (PRWEB) September 24, 2013
WebmasterRadio.FM, the premier B2B online radio network, is proud to be the recipients of a WebAward by the Web Marketing Association in their 17th Web Marketing Association WebAward competition for "Best Radio Website."
"We are proud to have been again recognized for all of our exhaustive efforts to deliver compelling, educational and informative digital media content to our loyal listeners," WebmasterRadio.FM President Brandy Shapiro-Babin said. "We are humbled by this acknowledgement by our peers and by all means we will strive to continue delivering award-winning content."
WebmasterRadio.FM was named Best Radio websites by WebAward judges who reviewed all entered websites judging each on the criteria for Design, Ease of use, Copywriting, Interactivity, Use of technology, Innovation and Content.
Our team is honored and privileged to be recognized again by the WebAward judges for our acheivement, "WebmasterRadio.FM Program Director Jorge Hermida said. "We work very hard to raise the bar on all of our content creation and production for the good of our wonderful sponsors and our dedicated listeners alike."
WebmasterRadio.FM has been a proud media sponsor of The Web Marketing Association WebAward competition, the premier annual website award competition that names the best Web sites in 96 industries, since 2005.
About WebmasterRadio.FM
WebmasterRadio.FM lifts the "veiled curtain" of the Internet, bringing the business community together through an interactive radio network. Its listeners are a global group, comprised of everyone from corporate executives and decision makers to small and mid-sized businesses and individual entrepreneurs. WebmasterRadio.FM's stellar line-up of radio programming includes; "Market Edge" with Digital Influence Group Chairman Larry Weber , "Purse Strings" with Carmichael Lynch Spong senior principal Maria Reitan and the "CyberLaw and Business Report with Internet Law Center Founder Bennet Kelley. To tune into WebmasterRadio.FM's live content or check out the show lineup, please visit http://www.WebmasterRadio.FM.
Media Contact:
Brandy Shapiro-Babin
954-309-5578