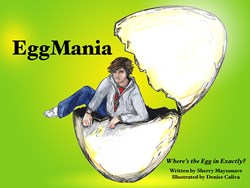 EggMania received the coveted Mom's Choice Award - Excellence Seal of Approval.
Austin, TX (PRWEB) September 24, 2013
EggMania: Where's the Egg in Exactly? has received the coveted Mom's Choice Award® (MCA) "Excellence Seal of Approval" and has been named internationally as among the best family-friendly media, products and services. Written by Sherry Maysonave and illustrated by Denise Caliva, EggMania is an enhanced Apple iBook aimed at children ages 6-12.
The Mom's Choice Awards is an international program that recognizes authors and others for their efforts in creating quality, family-friendly media, products, and services. Parents, educators, and librarians look for the Mom's Choice Awards Honoring Excellence seal of approval when selecting books for children.
MCA judges are bound by a strict code of ethics which ensures expert and objective analysis. A sampling of panel members includes Dr. Twila C. Liggett, ten-time Emmy-winner, professor and founder of PBS's Reading Rainbow and Julie Aigner-Clark, creator of Baby Einstein. To be considered for an award, Empowerment Productions submitted five identical samples of EggMania. Entries were matched to judges in the MCA database. Judges performed a thorough analysis and submitted a detailed assessment. Results were compiled and submitted to the MCA Executive Committee for final approval.
EggMania is a multi-sensory, rhyming tale of adventure loaded with brainy enrichment. Acknowledging that kids learn through play, EggMania was written to educate and entertain children growing up in today's digital world. It has also been awarded the Best Children's Illustrated eBook IPPY 2013 Bronze Medal and the kidSAFE seal.
EggMania focuses on "interactive imagination" and is a versatile learning tool in the areas of art, language development, creative writing, science, and speech. As Albert Einstein said, "Imagination is the highest form of research." EggMania is 190 pages, features stunning original art, advanced vocabulary with touch-sensitive definitions, and includes an educational game with over 150 mind-boggling, narrated "Fun Facts."
The next eBook in the ManiaTales series, EarMania: Where's the Ear in Regardless? will be released later in 2013 by Empowerment Productions. EggMania is available for only $9.99 on the Apple iBookstore. View the iBook's entertaining video trailer and ebook educational tips for parents and educators at http://www.maniatales.com.